There are many people who live stream their games online, not only on Twitch and YouTube but on other social media platforms. Some make it a hobby; others use it for additional income. One popular type of this trend is online casino broadcasting, where ClassyBeef is a well-known name.
Welcome $7777 Bonus + 300 Free Spins On Top!

*T&C Apply

Welcome Bonus 500% up to $2,500 + 50% Cashback

*T&C Apply
ClassyBeef Overview
ClassyBeef is a group of gamblers who found their niche in online gambling. They are based in Malta, a place that hosts the headquarters of many online casinos. Classy Beef is known as the fastest-rising slot machine broadcaster on Twitch, with their teamwork being the biggest key to their success right now.
| | |
| --- | --- |
| Streamer Account | ClassyBeef |
| Member's Names | Espen, Joe, Biggo, Jonte, Georgi, Lamar, Nando and Fredde |
| Country | Malta |
| Stream Started | 2019 |
| Special Talents in | Beef Battles |
| Favorite Casino | Stake Casino |
| Recent Biggest Win | $1,476,600.00 in Chaos Crew (Dec. 2021) |
| Recent Biggest Multiplier | 7,383x in Chaos Crew (Dec. 2021) |
Who owns ClassyBeef? The group started with just Joe and Espen, and their first stream was in 2019. At the time, the ClassyBeef Twitch account was new and unknown. They only had 11 live viewers. Plus, there were already many popular streamers out there. But they continued, and this became a motivation for them to improve.
About the Streaming Team
Is ClassyBeef legit? Yes. The group has eight official members who share the same passion, experiences, and knowledge about different betting styles on slot machines and the online gaming industry. These men are believed to be in their mid-twenties to thirties, and their other details remain private.
After ClassyBeef's debut in the online streaming industry, Joe and Espen saw their community grow. They decided to hire Nando in 2020, another casino player. Soon Jonte and Lamar joined the team. Biggo, Georgi, and Fredde then got involved in competing as official members of the group. ClassyBeef is known to be a passionate team in online gambling broadcasts.
They started as online gamblers entertaining their viewers by giving exciting and informative content. With over 200K followers, Classy Beef streamers are on the lists of most-watched channels in various categories on Twitch. Classy Beef teamwork became the key to their successful career and made them the fastest rising slot streamers ever.
Estimated ClassyBeef Net Worth
Like many other online streamers, Classy Beef makes money in many ways. They earn money from their winnings, streaming, advertising and subscriptions, affiliate deals, and merchandise sales. It would not be surprising if they had investments and other sources of income that were not disclosed to the public. But what is Classy Beef net worth?
Classy Beef net worth will be difficult to calculate. There is no public data that can be used in computing, but there are ways to assume and estimate. According to an online Twitch calculator, ClassyBeef has average earnings of $43,409.00 per video. If a casino pays them $100 per sign-up on their affiliate link and 25% of their followers create an account, they might get paid $5,595.700.00.
When and Where to Watch Their Broadcasts
Since there are eight active members, you may think they must always be online on their Twitch channel. However, they usually broadcast from Tuesdays to Sundays, from around 10 AM to 2 AM GMT+1 the next day. Since they are online for almost 12 hours, they cover every time zone. Whenever and wherever you are, you will be able to watch these guys play.
Does ClassyBeef Use Fake Money?
If you are familiar with other casino streamers, you may at least wonder how they fund their plays. You may even ask: "Is ClassyBeef fake?" or "is the ClassyBeef fake money rumor true?"
Even before Classy Beef streamers found their niche in the online industry, they knew how to play. If you watch old Classy Beef casino videos, you will see they have enough knowledge and experience to play and win. Also, they play in reputable and prominent online casinos. There is no way they would not ban someone who uses fake money in their games.
Favorite Online Casinos to Play
Looking at the group's past broadcasts, you will see that ClassyBeef is a big fan of Stake Casino. They play in other online casinos, but they hang out more in Stake. Because it is a Classy Beef casino affiliate, they advertise Stake and give exclusive promo codes and loyalty points during their streams.
ClassyBeef Games Overview
There are times that you will see a ClassyBeef member playing alone, but they are more active when they play as a group. Their viewers love to see their friendly banter. Classy Beef is also an avid player of slot games. The high volatility and thrilling multipliers of these casinos always excite them.
Bet Size
Classy Beef streamers have different betting styles than other online casino high rollers. This is because Classy Beef casino streamers bet on the middle range or at least $100 per round.
However, it is still a high bet size for a regular player. These gamblers believe that the higher their bet, the greater the win. The excitement they show is also a form of entertainment that they give to their viewers.
Biggest Wins
The team's biggest win to date is from Chaos Crew in December of 2021. On the ClassyBeef Twitch account, you will see Espen's reaction when the slot started rolling, and he ended up getting 7384x multipliers. He won $1,476,600.00 in that game – a new record of the biggest wins and the most significant multiplier.
Biggest Loses
There is no exact figure on Classy Beef's most extensive losses. Unlike other streamers, the ClassyBeef casino slot betting style is not as high as other streamers, but it doesn't mean they save more money because of that. A higher bet means a higher chance of winning big, and there are times that they participate in high-stakes slots.
If Classy Beef bet $100 per spin and made more than 100 spins, they wouldn't have enough bonus rounds and multipliers, making them lose thousands of dollars.
About Beef Battles & Their Challenges
The ClassyBeef challenge is a series where Classy Beef streamers battle each other in a slot machine game. It is a one-on-one battle, and a third member will act as the referee.
They mostly add special slot machines to these battles, and they can buy free spins to make it more exciting. The winner will be whoever wins the most money from the free spins, who wins a bonus game first, and of course, who has the biggest win.
Classy Beef Rumors & Scandals
Is ClassyBeef Fake? Are the ClassyBeef fake money rumors true? These are just some rumors about Classy Beef that have appeared in different forums and sites. There is no factual evidence to prove these rumors and scandals.
Classy Beef is a player, not a dealer, a broadcaster, not a game developer, and they can't manipulate something they can't access. Gambling experts and long-time followers said they shouldn't call ClassyBeef fake without concrete evidence or ban them from playing and streaming.
ClassyBeef on Social Media
ClassyBeef has its website for clips of its old live streams. ClassyBeef streamers also have a unique feature on the website whereby users can trade in the reward points collected from watching their broadcasts for different prizes. These prizes can be an iPhone, iPad, or Stake casino cash. ClassyBeef connects to their viewers through social media accounts.
Twitch
The ClassyBeef Twitch account has over 224K followers. Twitch is where they hold live streams, playing all kinds of casino slots games. They stay online for over 10 hours straight, so you will always have a chance to watch them banter and play.
YouTube
YouTube, ClassyBeef's other platform, is only used for posting videos. They, unfortunately, don't do live streaming there. ClassyBeef's Youtube account has 24.3K subscribers. Through Youtube, ClassyBeef viewers can watch ClassyBeef bonus rounds, their biggest and latest wins, raffles, and competitions.
Instagram

ClassyBeef's Instagram account already has 68.9K followers. If you want to see how the guys live outside of gambling, you should follow their Instagram. However, Classy Beef is known for keeping their personal lives private. Their account just consists of short clips of them enjoying life and short clips of their casino moments.
Twitter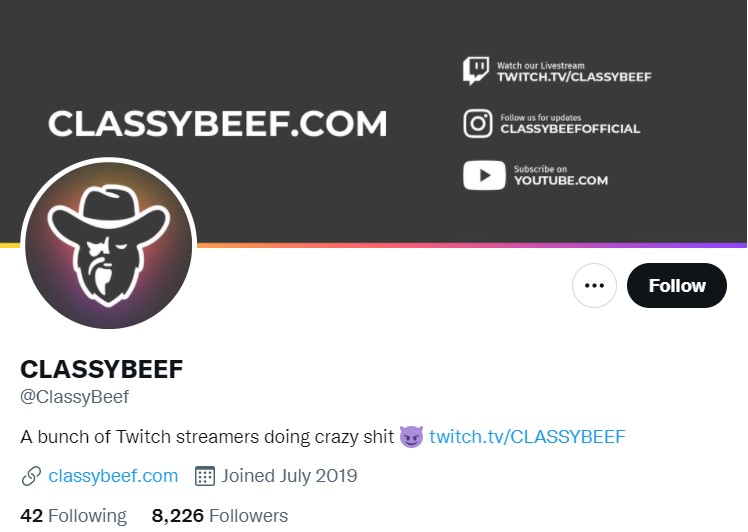 Their 7.9K Twitter followers know that their account is not only used for stream updates and casino news. It is also a place for ClassyBeef's bonuses and giveaways for their followers. Check their Twitter account to be updated and join their ongoing giveaways.
Facebook
ClassyBeef usually shares its YouTube videos with its 1.2K Facebbok followers. They also post casino updates and holiday greetings to their Facebook fans.
Discord
Since Twitch has a new rule to ban streamers who put affiliate links on their streams, ClassyBeef made a Discord account. They also use Discord to chat with their followers or answer questions. They also share guides and updates. Join their Discord account and be part of the 18.7K community.
Conclusion
Classy Beef is more of an entertainer than a casino player. Of course, they play to win a massive amount of money, but their viewers see them as entertainers who like casino slots. They started small, and now they are one of the top streamers. There were rumors that they were tricking people or had fake licenses, but large casinos and platforms have never banned them.
When they play as a team, they play and chat with their audience. They share ideas and tips to win or beat the casino dealer. Their content is a combination of fun and information. Their website only promotes safe gaming and quality performance. They also give back to their viewers through ClassyBeef bonus giveaways and loyalty points trading.
FAQs
Where to Watch Classy Beef Streams?