The potential income offered by streaming is nothing new. People can share their experiences and earn at the same time. Gambling is one of the fastest-growing communities on Twitch and YouTube.
Welcome Bonus 500% up to $2,500 + 50% Cashback

*T&C Apply

Welcome $7777 Bonus + 300 Free Spins On Top!

*T&C Apply
About The Kuri Slot Channel Owner
The Kuri Slot channel on YouTube showcases frequent winnings. Like other streamers, Kuri Slot YouTube keeps its details private, with only a black beaded bracelet and lucky cat avatar representing the channel.
Who is Kuri Slot? The person behind the camera is a Japanese woman living in Los Angeles, California. She likes lucky cats and other good luck charms. Other than that, there are no further details about the streamer. Read on more to learn about how the Kuri Slot channel started and became famous in the slot industry and how often Kuri Slot wins.
Beginnings
The Kuri Slot channel opened on October 15, 2014. She had a big entrance on YouTube a year later when she uploaded a live play on Timber Wolf Deluxe with a $7,300 win in a bonus round. In the first year of the Kuri Slot channel, the maximum length of any of the videos was 7 minutes, and the shortest was 30 seconds. This meant that Kuri Slot only selected a particular part of her bonus spins on the coin slot machines to film.
Achieving Popularity
The Kuri Slot channel reached its first thousand subscribers on February 08, 2016. The 10K YouTube milestone was achieved two years later. At this time, Kuri Slot made an effort to open social media accounts and gain a larger audience. As of April 2022, the Kuri Slot YouTube channel has 40K subscribers and 31.4 million views.
Kuri Slot's Net Worth and Salary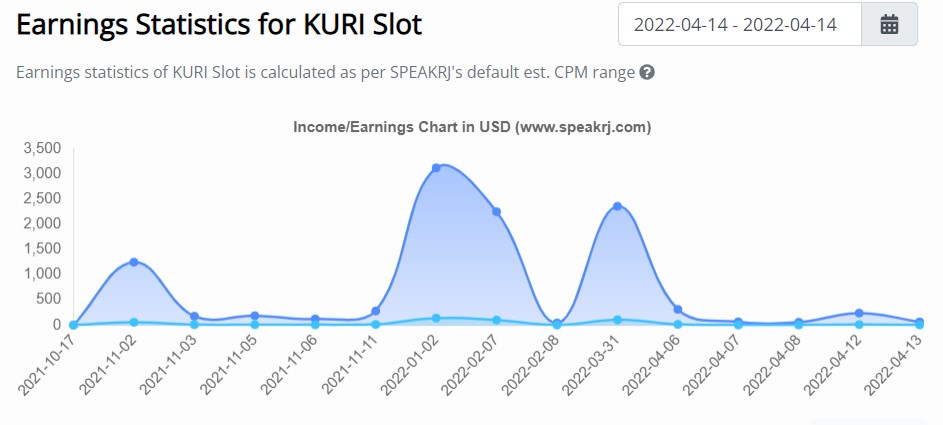 There is a potentially high income in being a broadcaster on YouTube. However, it will always depend on your niche and viewership. Streamers earn from YouTube ads, sponsorship, affiliate, merch, memberships, super chat, and donations. Kuri Slot is still a smaller channel with no affiliate links, merch, or memberships.
It will not be surprising that Kuri Slot's net worth is not that high based on this information. Based on the default CPM of SPEAKERS, Kuri Slot's estimated net worth and annual salary is between $16.8K and $378.4K. The potential monthly income of the channel is between $1.4K and $31.1K, depending on the channel's statistics.
Where to Watch the Streams
Unlike other slot streamers, Kuri Slot does not go online to stream her slot gameplay live. Instead, Kuri's latest slot wins videos are uploaded on her channel every Monday, Wednesday, and Friday. Kuri is just a casual slot player and only visits casinos during her free time.
YouTube Channel
Kuri Slot has now been in the industry for six years and has had many experiences, but the peak of her popularity is still far off. According to the transparency report of noxinfluencer.com on the view history of the Kuri Slot YouTube channel, the channel's average number of views has been at 6.49K since 2021.
The highest number of views was 41.16K on October 23 last year. The most-watched video on the Kuri Slot channel was published in January 2018, where she played three coins slots and won $329.80. The video has 571,150 views as of now.

Why Watch the Kuri Slot Channel?
If you want to learn some easy tricks or become more familiar with slot machines but don't want to watch long videos, then Kuri Slot is the right channel for you. Kuri avoids publishing lengthy videos and will only select the best moments so the viewers will not leave or skip in the middle of the video. Watch Kuri Slot to get short but information-packed and fun gameplay.
Kuri Slot's Favorite Casinos & Slots
Kuri travels for hours to visit her favorite land-based casinos, where Kuri Slot's wins and losses happen. Her favorite casinos are San Manuel Casino, Barona Resort Casino, Yaamava Resort & Casino, Pechanga Resort Casino, Harrah's Resort SoCal, and other casinos in Las Vegas. Her favorite high limit and coin slots are Timber Wolf, 5 Dragons, Cleopatra, Buffalo Slot, Dragon Link, and Lightning Link.
Her Latest Wins
It's easy to look for Kuri Slot's latest slot wins on her channel since almost everything she uploads is about her winnings. But if you want to watch her win in a particular slot, you can check out her playlist or use the search button on her channel for faster browsing. She also posts shorts of her unforgettable winning moments. Here are some of Kuri Slot's latest slot wins:
$1,685.45 Huge Win on Tiki Fortune ($3.75 Bet)
$957.00 Huge Win on Cleopatra Gold Dime Ver. ($6.00 Bet)
$939.75 Bonus Mega Win on Timber Wolf Diamond ($3.75 Bet)
$900.30 Mega Big Win on Celestial Maidens ($3.00 Bet)
$739.40 Bonus Win on 5 Dragons Gold ($3.00 Bet)
Kuri Slot's Social Media Pages
Streamers use social media not only to boost their audience but also to share their affiliate casinos and slot games since Twitch made a rule to ban this on their site. They also use their social media accounts to post giveaways, upcoming events, streams, and share casino and personal updates. Kuri has social media accounts but has a different way of using them.
Instagram

Unlike other streamers, you will only see Kuri Slot wins and lucky cats on her account. 95% of her 396 posts are about short clips of Kuri Slot wins in various casinos. Join her 825 followers and get a chance to chat with her at Kuri Slot (@instagram.com/kuri_slot).
Twitter
Kuri Slot joined Twitter (@twitter.com/Kuri_Akafuji) in November 2017 and was active until 2020. Her Twitter account was full of gambling news, and links to the Kuri Slot wins videos on YouTube. She also liked to retweet her family account, AkafujiSlot.
Is Kuril Slot a Fake Streamer?
Transparency is a way to prove that a streamer is not fake, and Kuri Slot believes in that. She likes to add captions of her Money In, Cash out and Profit in some of her videos. Even if most of her videos are all about the popular Kuri Slot wins, she also adds her losses.
Kuri managed to survive the strike ban of YouTube on gambling accounts. She is a small account, but her viewers and other gambling experts can assure you that Kuri Slot is not fake.
Conclusion
Making people curious is a great way to gain viewers in this industry. This is why Kuri Slot became popular. People wanted to know who the person behind the camera was, who it was that had all that luck and won in every slot machine.
The casual gambler from LA turned into one of the most-watched YouTubers today. If you want to see her tricks and find out how she wins and makes a profit from small bets, subscribe to her channel and watch Kuri Slot's latest slot wins.
FAQs
Who Owns the Kuril Slot YouTube Channel?

What Is the Kuril Slot's Net Worth?

Is Kuril Slot a Fake Streamer?