Nowadays, being famous in the social media industry as a streamer is very commonplace. YouTube is a great platform to gain an audience and turn it into a big community. Who is behind TheBigPayback channel on YouTube, and how did they turn their hobby into a career and gain fame?
Welcome Bonus 500% up to $2,500 + 50% Cashback

*T&C Apply

Welcome $7777 Bonus + 300 Free Spins On Top!

*T&C Apply
Who Is TheBigPayback?
TheBigPayback YouTube channel was launched on August 14, 2014. With over 2,000 slot game recordings, the channel gained 108,937,816 total views. The Big Payback uses a different approach that became his key to gaining many viewers. Instead of focusing on winning every slot machine in various casinos, he made sure that the videos were not just there to entertain his audience but also to educate them.
TheBigPayback used to be mysterious, and the only thing people knew was that Tim was his real name. That was until he accepted an exclusive interview in 2019 with Everybody Play Now. Tim said he lives in Cleveland, Ohio, with his wife and dog during the interview. What is The BigPayback slot's net worth, and how did he start and become famous?
Early Life
You may have thought streamers have no other job and only make money through streaming, and in some cases, you may be correct, but not with TheBigPayback. Tim's main job is his work as president of a tech company that provides customized internet solutions to its clients. Before becoming well-known as The BigPayback slots, he was a card gambler.
Tim revealed that his mother introduced him to gambling, and he became an avid player of five-card poker. His early experience in casino games and passion for graphic design became a way for him to get to know slot machines. Tim said the slot machine designs and amazing gameplay made him fall in love with gambling.
Becoming a Streamer
Looking back at TheBigPayback slots videos, you will see that he rarely talks or gives reactions even if he wins. In the interview, Tim explained that it is hard for him to chat in front of the camera because he is an introvert. Another thing to pay attention to when watching The BigPayback's early work on YouTube is the poor quality or "bad camera settings," as Tim called it, on his videos.
Now, he strives to become more comfortable in front of the camera, chatting and sharing his gambling adventures with his viewers. The video quality of TheBigPayback's work has also improved and has become more stable. These changes have made it possible for his channel to become more popular and for his audience to grow.
The Streamer's Estimated Net Worth
Most streamers earn from affiliate links, merch, stream elements, views, subscribers, and other sources. Unfortunately, it isn't easy to get information about their earnings as they keep them private. The BigPayback slot's net worth is also unknown but can be estimated using simple computations and online sites like YouTubers.me.
According to the site, The BigPayback slot's net worth is between $40.6K to $243K annually. His estimated monthly earnings are at $1.47K, and according to their recent report, the TheBigPayback YouTube channel made $2.55K in the last 90 days. The channel doesn't have merch or affiliate links but has opened a membership option on YouTube that ranges from $3 – $24 a month.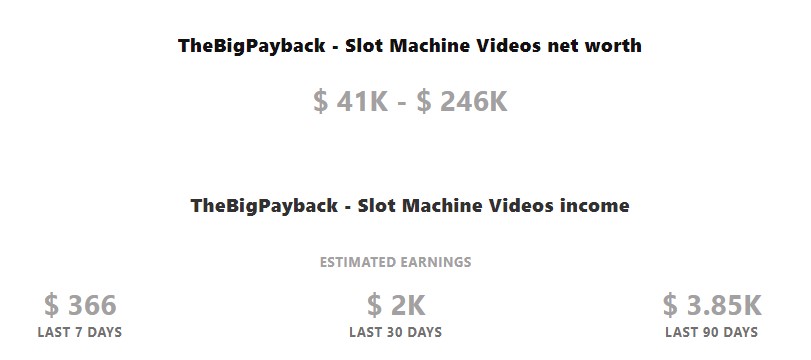 Where Watch TheBigPayback Slots Videos
You can watch TheBigPayback slots videos on his YouTube channel. Tim doesn't have a set scheduled stream time and only gives updates via his social media. While waiting, you can enjoy his game recordings, and he posts new videos on his channel twice a day. You can also enjoy watching TheBigPayback slot wins and huge payouts on his playlist, designed for fast browsing.
YouTube Streaming Channel
The TheBigPayback YouTube channel (@youtube.com/c/Thebigpayback) has grown from a small channel to one of the fastest-growing slot channels in history. Four years after he started The BigPayback slots, he reached his 50K subscriber milestone, and by June 2021, he had added another 50K. As of April 2022, he has 117K subscribers and is 286,489th on the noxinfluencer.com global subscriber rank.

TheBigPayback Slot Wins
Another factor that significantly affects The Big Payback slot's net worth is his frequent wins. His channel has 2,438 videos, and tracking TheBigPayback slot wins will be difficult. But, on his official website, he has posted a compilation of TheBigPayback slot wins from his YouTube history. The list includes:
Zeus – $33,175.00 Jackpot on October 30, 2014
Midnight Matinee – $13,167.50 Mega Jackpot on April 09, 2018
Money Galaxy Slot – $10,976.28 Mega Jackpot on October 08, 2019
Mighty Cash Double Up – $8,114.00 Grand Jackpot on May 12, 2021
Great Moai Slot – $6,740.00 Mega Jackpot on August 30, 2018
Buffalo Gold – $6,367.74 Mega Jackpot on April 18, 2019
His Favorite Casinos
To film content for The BigPayback slots channel, Tim has to travel to various land-based casinos across the country. His favorite casinos are the Greektown Casino-Hotel, Jack Thistledown Racino, and Hollywood Gaming at Mahoning Valley Race Course.
The BigPayback also writes reviews for each casino and slot machine to recommend to his audience on his official website. He likes to gamble on slots made by famous slot manufacturers and providers like Aristocrat, Konami, WMS, and AGS.
Is the BigPayback Fake?
Being labeled as someone who uses a fake account in posting slots, videos, cash deposits, and withdrawals in a casino forum is always part of the experience as a casino streamer. In 2018, The Big Payback posted about how people accused him of running a fake account in 2014 when he was still getting started.
Unlike other streamers, he took action and proved his legitimacy. He told people who didn't believe him to challenge him on Zeus and to go to his accountant and view his tax return. This post reached viewers who knew and saw how legitimate his cash withdrawals were and supported him. He also uploaded a guide on how to spot fake slot videos on YouTube.
Social Media Pages
Tim's main job is to film high-quality content for The Big Payback slots channel as a content creator. But, a social media presence is also vital in this industry to gain more viewers, so he created various social accounts for TheBigPayback: Facebook, Twitter, and his official website.
Twitter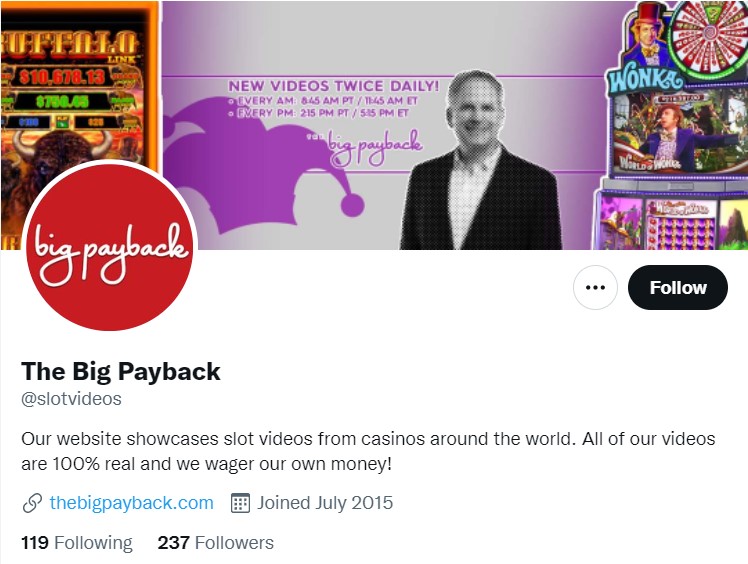 Tim made a Twitter account for The Big Payback slots in 2015. The account is used to post updates on Tim's life in and out of the casino. It is also where he posts schedule streams and events. Join his 237 followers in following TheBigPayback on Twitter @twitter.com/slotvideos and stay up to date on Tim's streams and upcoming events.
Facebook
The BigPayback slots has 777 likes on Facebook (@facebook.com/TheBigPayback777) and 1,152 followers already. The account contains duplicates of TheBigPayback slots videos from his YouTube account. He is also very active in sharing updates on his personal and casino life and chatting with his viewers in the comments section.
Official Website
Tim promotes entertainment and education on his channel. His official website thebigpayback.com is very helpful for his viewers as it can also serve as a forum where his viewers can share their opinion on each featured in his game recordings. He creates casino and slot reviews on his site and uploads different collections of TheBigPayback slot videos.
He also has a section called "Ask Zeus," where a viewer can ask anything slot-related. Each of these questions will be discussed in a post to be read by his viewers. TheBigPayback is known to add tips and guide his viewers on how to play particular slot machines. He does that in each of his videos, but it is more detailed on his website.
Conclusion
As a casino content creator, the pandemic has affected TheBigPayback for a while. Some land-based casinos are closed, and others have very strict restrictions. Another challenge is the growing number of streamers in online gambling.
However, that doesn't stop The BigPayback slots, and he keeps on making quality, informative and entertaining videos for his viewers. He continues to share the recordings of his gameplay and gives tips on how his viewers can win jackpots.
FAQs
Is The BigPayback on YouTube?

Does The BigPayback Use Fake Money?

What Is TheBigPayback's Biggest Win?