Live casino streaming has grown in popularity among online casino players worldwide as it is fun and interesting. Fans can enjoy all-in casino games without having to pay anything for the privilege.
Professional casino streaming is becoming more and more popular as a long-term career option. One of the well-known casino streamers is Yassuo. The Twitch streamer is already making waves in the industry. As a result, he's drawn a lot of attention from people eager to get a glimpse inside his private and professional life.
In this guide, we'll go over everything there is to know regarding Yassuo streamer, including his private insights, biggest wins, and favorite games and casinos. Let's get started!
Welcome $7777 Bonus + 300 Free Spins On Top!

*T&C Apply

Welcome Bonus 500% up to $2,500 + 50% Cashback

*T&C Apply
Who is Yassuo?
Yassuo's real name is Hammoudi Abdalrhman. He is a full-time Twitch and YouTube streamer for 100 Thieves and an American League of Legends. "Yassuo," popularly known as Moe, was born on June 15th, 1999, where he grew up and spent his childhood. His parents are Palestinians.
Yassuo is fluent in Arabic. Yassuo is a nickname inspired by a popular "League of Legends" champion named Yasuo, whom the young player chose to honor. He is currently single. Yassuo lives with his family in Los Angeles and has an older brother and younger sister.
Streamer name
Yassuo
Real name
Moe, Hammoudi Abdalrhman
Country
New York City, United States
Date of birth
June 15, 1999 (age 22)
Origin
2016 Apr 18
Followers
1,510,000 (YouTube)
2,013,942 (Twitch)
Favorite Casino
Stake
Channel Rankings
#458 most-watched overall
#8 most-watched Slots channel
#213 most-watched English channel
#8 most-watched English Slots channel
Total views
107,485,230 (Twitch)
572,965,411 (YouTube)
Before Fame
When Yassuo was in high school, he spent a lot of time playing video games and when he realized he was skilled enough, he began live streaming. Moe began uploading his plays on YouTube while playing with some of North America's greatest players. His family was first skeptical of his streaming profession, but once he began to earn money and achieve fame, they accepted it.
YouTuber Career
May 15, 2016, marked the day Moe launched his own personal YouTube account. He regularly posts his video highlights and mashups of his Twitch streams to his channel. He mostly posts videos of League of Legends, which has been his primary game for a long time.
Social Media Star
Yassuo has developed a sizable social media following as a full-time streamer and YouTuber. He has grown to prominence in a relatively short period. The young man appears to have a clear goal in mind and is putting all his efforts into making his streaming career a success.
Yassuo's Net Worth & Salary
Yassuo's current net worth is estimated to be approximately $2 million. He makes his money via uploading videos to YouTube, streaming on Twitch, selling merchandise, and accepting sponsorships and donations, among other things. His YouTube channel has over 566 million views, which translates to almost $1.5 million in revenue before taxes. Yassuo also often participates in Twitch-hosted e-sports tournaments, where he has earned a substantial sum of money.
Yassuo is thought to have around 3,400 subscribers. This would provide him with a monthly income of at least USD 8,500. Yassuo's annual profits from his YouTube and Twitch channels are believed to be over $180,000. He'd be making well over $250k a year if we factor in his sponsorships, contribution shout-casting, Counter Logic income, Twitch Cheer Bits tips, advertising, and tournament earnings.
Sponsorship deals
Yassuo is presently represented by 100 Thieves, a content creation agency and network that has helped him acquire several sponsorships. CashApp, AT&T, Chipotle, GrubHub, and Rocket Mortgage are among the companies that have invested in Yassuo.
Ventures
Yassuo is a regular participant in Twitch's "Twitch Rivals" events. With Albert "BoxBox" Sunzheng, Imane "Pokimane" Anys, Allen "Saber" Chen, and Tim "Trick2g" Foley, he took first place in the League of Legends competition at TwitchCon 2019.
He also competed in the 2020 GlitchCon Super Team Showdown with Karim "Sanchovies," Danny "Shiptur" Le, Ashkan "TF Blade" Homayouni, and Tim "Trick2g" Foley, finishing third. On his meta-thread-hosted website, Yassuo sells his own line of merchandise.
Games That Make Him a Popular Streamer
Moe primarily plays League of Legends, which led him to the partner program from 100 Thieves. He also plays Valorant, Jump God and I Wanna Be the Boshy, among other games.
When Yassuo streams gambling, he mostly plays slots, but he also plays live casino games on occasion. Madam Destiny Megaways, on which he hit the jackpot, Juicy Fruits, Voodoo Magic, and Wanted Dead or a Wild are among his most-played slots.
Yassuo frequently plays Blackjack when he streams himself playing live casino games.
The Game Loss on July 22nd & Yassuo's Backlash
Last year, Yassuo streamer suffered a severe career setback due to an unfortunate incident. "What happened to Yassuo?" Following a tussle in solo queue gameplay, the streamer abused a fellow player, Diana, and her entire family. He expressly ranted and wished her and her entire family cancer. While Diana had a bad game, Yassuo completely lost it in the end-game lobby, leading to some offensive behaviors.
His Twitch charity stream was canceled because of this slur, which many have described as nasty and offensive. Yassuo later apologized on Twitter that he was "a little too toxic" and that he would attempt to manage his emotions better in the future.
Yassuo also apologized on Twitter for his reckless statements, but fans couldn't take it any longer and hailed the action as reasonable and well-deserved.
It also led to the cancellation of other fundraising events for cancer awareness since the organizations involved refused to deal with him after what he had done.
Why Watch Yassuo?
Yassuo streamer has worked hard and made a name for himself in the online gaming world in a very short amount of time. While entertaining his young fan base, Yassuo has also inspired and impacted them to pursue their aspirations and passions in the same way. He moved up the rank ladder through hard work and demonstrated that sticking to a goal and putting in time and effort can lead to success.
Social Media Profiles
The following are the social media profiles of Yassuo streamer.
Twitch

A Twitch partner, Yassuo streams exclusively on the platform. After delving deep into the realm of gaming, Yassuo allegedly began streaming around high school. On April 8, 2016, he made an account and began streaming League of Legends. He had roughly 100 to 300 viewers every broadcast until the end of 2016, but things began to change in 2017 as his numbers began to climb dramatically.
In April 2020, he had a monthly peak average audience of 28k viewers per stream. Currently, the broadcaster attracts between 3.5k and 6k viewers per stream.
As of 2022, Yassuo has slightly over 2 million followers with over 100 million Twitch channel views.
YouTube
Yassuo YouTube currently has 1.1k videos uploaded and 1.51 million subscribers. He also has another YouTube channel called "Life of Moe," where he uploads Vlogs from his daily life.
Instagram

Yassuo Instagram has 400k followers. He is very active on the platform, uploading a lot of photos from his personal life, such as vacations with his family, photos of his dogs, and so on.
Twitter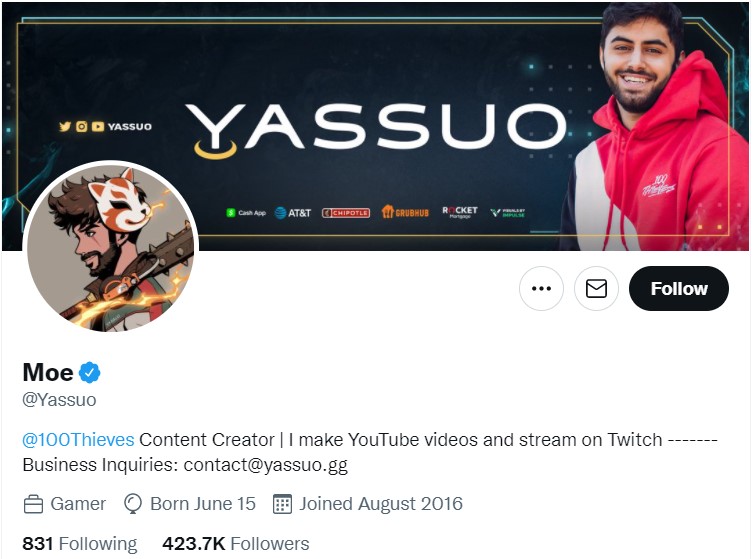 Yassuo Twitter has 423.7k followers. He is quite active on the platform and tweets a lot about his streams, promotions, and collaborations with Stake and 100 Thieves. Fans can also find a referral code for his merchandise here.
Facebook
Yassuo has 300k followers on Facebook. If you want to stay up to speed with all Yassuo gambling dealings, you can follow him on Facebook.
Final Thoughts
Yassuo is a popular Twitch streamer who is among the platform's top 150 most-watched English channels. The young streamer aspires to the pinnacle of success in the game industry with his unwavering dedication. As the world waits to see what the future holds, his work is sure to be a topic of conversation.
FAQs
Does Yassuo Have Any Social Media Accounts?

Why Did Yassuo Become Popular?