Suppose you're a slot machine player and love to watch online casino broadcasts on platforms like Twitch and YouTube. You probably know one of the most-watched YouTube streamers in the industry. His real name is Scott Richer, but he's better known for his work as The Big Jackpot YouTube streamer.
Welcome Bonus 500% up to $2,500 + 50% Cashback

*T&C Apply

Welcome $7777 Bonus + 300 Free Spins On Top!

*T&C Apply
Who Is The Big Jackpot?
Transparency is vital to a content creator but not a given, and many do not disclose their personal details. The Big Jackpot's openness in interviews about sharing some of his personal information boosted his popularity. His real name is Scott "The Raja" Richter, he's currently living in Colorado, and his age is 51. He is a high roller slot machine player who travels to different land-based casinos in the US.
| | |
| --- | --- |
| Streamer Name | The Big Jackpot |
| Stream Started | December 30, 2015 |
| Streaming Channel | The Big Jackpot YouTube |
| Streamer's Real Name | Scott Richter |
| Nickname | The Raja |
| Age / Birthdate | July 18, 1971 |
| Country / Location | Colorado USA |
| The Big Jackpot Net Worth | $674,000.00 (Statsmash) |
| Current Number of Viewership | 361K YouTube Subscribers |
The Big Jackpot's net worth and details on his wife and kids remain a secret. Aside from YouTube, he also has a solid social media presence, especially with The Big Jackpot Facebook account.
His popularity and success have improved his reputation, and he became known as the King of Slots. But who is The Big Jackpot, really? Here is how he started his successful career:
Early Life Facts
The man behind The Big Jackpot YouTube channel is Scott Richter, is a PR expert, advisor, entrepreneur, and CEO of Media Breakaway, Dynamic Dolphin, and affiliate.com.
What happened to The Big Jackpot in 2006? Raja was recognized as the "Spam King" when Microsoft sued his company for illegal spam activities. Richter was forced to pay $7 million.
Career
Casino videos were not a niche for content creators back in the day, but The Big Jackpot proved them wrong. He created his channel for fun, where he posted videos of his slot machine games at the casino. The Big Jackpot never expected this fun to turn into a huge success.
His hobby of risking large sums of money attracts many viewers, and he now has a fan club called "Bomb Squad." These people are the ones who engage on The Big Jackpot's stream elements, such as chat, comments, and donations. Is The Big Jackpot fake? No, and his most watched videos about massive wins and losses prove that.
The Big Jackpot Net Worth & Salary
One thing many streamers have in common is their unwillingness to disclose their net worth, which is understandable. The Big Jackpot's net worth is also undisclosed. However, according to Statsmash, The Big Jackpot's net worth as of March 2022 is $674,000. This is not including his income from his business, affiliate links, stream elements, Patreon, and merchandise.
Looking at the chart below, last August 2021, the highest estimated income of The Big Jackpot was $1.48K, while the lowest was $245.69. You can also see that his income has continuously moved upward since 2020. This chart shows that The Big Jackpot's net worth increases as the years go by.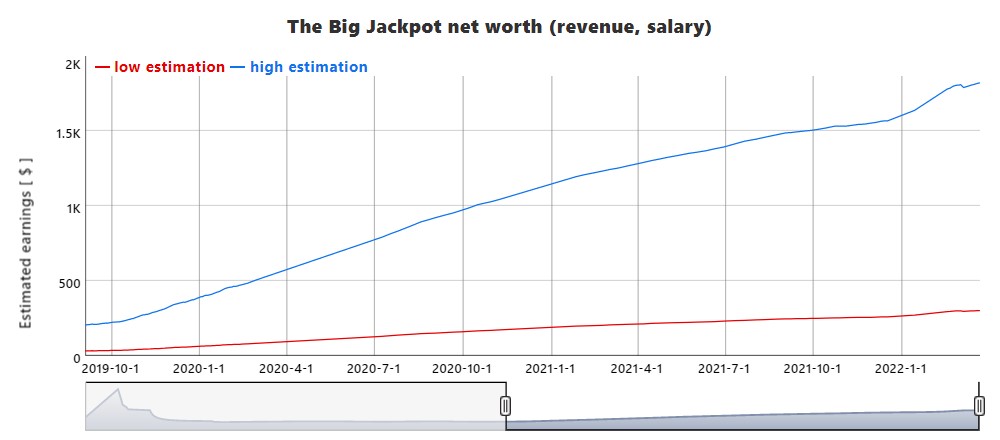 Where to Watch the Streams
Who is The Big Jackpot on Twitch? Richter created a Twitch account in 2018 (@twitch.tv/thebigjackpot) but left and focused on his YouTube work. The Big Jackpot's Twitch account is still there and has two old videos of Richter playing bonus rounds in casinos.
If you are lucky, you can get a bonus using the promo code that his team shares during his streams. You can watch his broadcasts on his YouTube channel and The Big Jackpot Facebook account.
YouTube Channel
The Big Jackpot YouTube main channel (@youtube.com/c/TheBigJackpot) currently has $358K subscribers, while his second account, "Raja Slots" (@youtube.com/c/RajaSlots), has over 30K viewers. His main channel has the greatest impact on The Big Jackpot's net worth, and it is where he performs his live broadcasts and uses stream elements such as chatting and donations.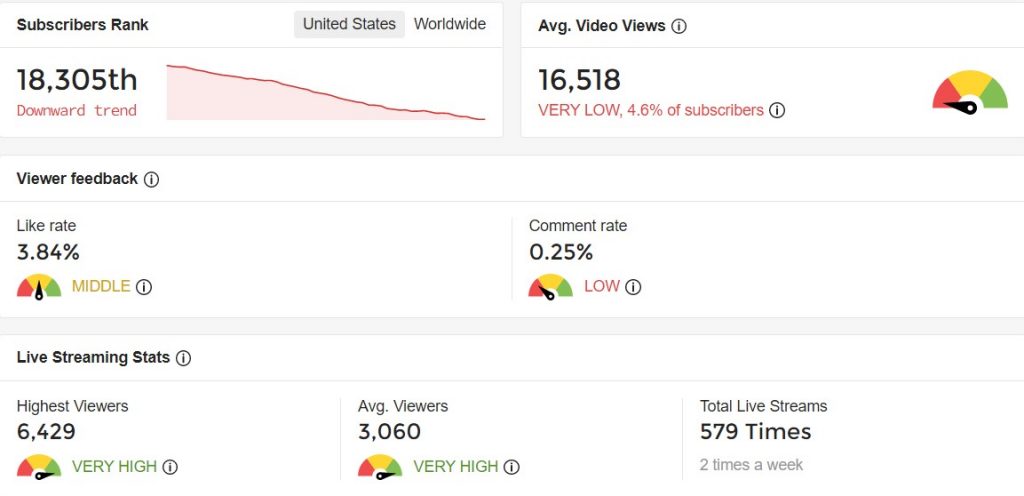 The chart shows the number of views of The Big Jackpot YouTube channel. Here, his most-watched video was posted on the 24th of February. It is a video of him winning more than ten Ocean Magic jackpots which got over 233K unique views. Visit his channel to see more of The Big Jackpot's biggest win videos and high-quality content.
The Big Jackpot's Biggest Win
Richter and The Big Jackpot crew spend a lot of time and money playing slot machines. His videos and broadcasts show both The Big Jackpot's biggest wins and losses. In YouTube history, The Big Jackpot's biggest win of $100,000 happened in June 2019 on Top Dollar. It was unforgettable because he was also celebrating his 100K subscribers that day.
Which Casinos Does He Play At?
The Big Jackpot is a well-known high stake slot machine player in America. He travels across the country with his crew to look for a land-based casino. His favorite casinos to visit are the casinos in Las Vegas, such as The Cosmopolitan.
Sometimes it also serves as a venue for his life events, such as birthdays and YouTube milestones. Follow The Big Jackpot's Instagram, Facebook, and other social media accounts to stay up to date and catch him playing in real-time.
Does Big Jackpot Use Fake Money for Bets?
The Big Jackpot fake money issue arose when the broadcaster's channel was taken down. What happened to The Big Jackpot? On the 4th of June, 2018, YouTube took down The Big Jackpot YouTube channel due to repeated or severe violations.
While Raja doesn't know the actual violation, the allegations started in a forum and other community sites. Fortunately, days later, The Big Jackpot channel was restored; however, the income from stream elements and views took at least a week to be repaired. To answer whether The Big Jackpot fake money accusation is true: Raja plays in a physical casino, and there is no way for him to use fake money.
Social Media Presence
The Big Jackpot website www.thebigjackpot.com has different tabs related to Cruises, Merch, and direct links to subscribe to the Newsletter and Patreon. On the lower part, you will see various social media logos, such as a link to The Big Jackpot Instagram account. Check out his other social media accounts, affiliate, and app links in the description box on any of his videos.
Facebook
The Big Jackpot Facebook (@facebook.com/TheBigJackpot) account now has over 320K followers. In the intro, Raja specifically said he only plays high-limit slot machines. His page is categorized under "Blogger," and The Big Jackpot website is linked there. Raja sometimes streams on The Big Jackpot Facebook and posts duplicates of his videos for his Facebook viewers. Follow The Big Jackpot Facebook account and join his massive community.
Instagram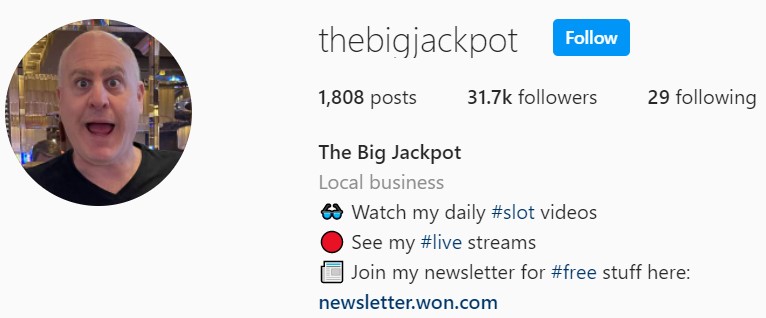 If you have Instagram and want to see Raja's life in and out of the casino, you should follow The Big Jackpot Instagram account @thebigjackpot. The Big Jackpot Instagram (@instagram.com/thebigjackpot) has 30K followers and is very active in posting photos and reels of the casino journey.
Twitter
Unlike The Big Jackpot Instagram and Facebook accounts, his Twitter (@twitter.com/thebigjackpot) has the least number of followers. He has just over 2K followers, and this is because what he posts on The Big Jackpot Instagram account is only shared on his Twitter. His affiliate links, giveaways, stream updates are posted on his YouTube, Patreon, and Facebook accounts.
Conclusion
Scott Richter is slowly embracing transparency. By checking The Big Jackpot website and his main channel, you will quickly learn who The Big Jackpot streamer is. He is now more open to sharing The Big Jackpot's biggest wins, betting styles on each bonus round, and other personal details.
He also enjoys engaging with his viewers. He always answers on live forums and does promocode giveaways that his audience can use for casino app bonuses. His passion for gambling became the path to achieving his success today.
FAQs
How Much Is The Big Jackpot Worth?

How Much Does The Big Jackpot Make on YouTube?