Twitch is one of the most widely used platforms for watching and engaging in live online game streaming. Increasing numbers of people have become active in the online gambling industry over the last few years.
Viewers enjoy tuning in to see their favorite streamers go on a wild rollercoaster of spontaneous slot and table gaming action. It's not uncommon for online casino players to stream their sessions live for the benefit of other gamers all over the world.
Kognebonus is one such up-and-coming casino streamer group. Every day, the Kongebonus gambling community streams live slots on Twitch. Despite their relative inexperience in the online casino slot industry, they are steadily gaining popularity.
This article will go into Kognebonus's big wins, favorite casinos, and other interesting information.
Welcome $7777 Bonus + 300 Free Spins On Top!

*T&C Apply

Welcome Bonus 500% up to $2,500 + 50% Cashback

*T&C Apply
The Kognebonus Streamer Overview
Kongebonus is a small Twitch streaming channel. Daniel is the channel's creator, ie: the King of the King Bonus. Svippi, Ole, and Teddy complete the group. Gaming and slots are not their only passions. They are also big fans of IK Start and Porsche as well as Rolex.
Streamer name
Kognebonus
Real name
Daniel
Origin
Jan 19, 2021
Current Residence
Oslo, Norway
Followers
12,061 (Twitch)
1,440 (Youtube)
Specialties
Belongs to Top 0.11% of Twitch
Channel Rankings
Ranked #9,357
#Norwegian channel
Highest viewers
16,000(YouTube)
Total views
388,453 (YouTube)
724,720 views (Twitch)
How He Became a Popular Streamer
To gain popularity, Kongebonus started streaming on Twitch every day and started getting huge wins on his slot games. Furthermore, he's one of the first Norwegian casino streamers to emerge on the scene. Since the establishment of his website, which displays some of the biggest bonuses available from leading casinos, Kongebonus has grown tremendously. It now consists of a hard-working group that regularly streams and is steadily climbing the rank up in the casino streaming world.
An Evaluation of Kongebonus' Net Worth
Kongebonus' net worth information is still a mystery and not available anywhere online. However, we assume the group's net worth will be relatively high because they've won some huge payouts on slot machines. Kongebonus is only getting started with casino streaming, and they have a long way to go before they can consistently earn huge amounts of money.
Where to Watch Streams
The following are the two main platforms where you can watch Kongebonus streams.
Twitch

Kongebonus Twitch is a single game streaming group that only streams slot machines. They are one of the first Norwegian casino streamers to have become popular on the platform. As of right now, Kongebonus isn't a Twitch Partner. Currently, Kongebonus has 12,075 followers and 730,354 total views on Twitch. They currently have 211 active subscribers on the platform.
YouTube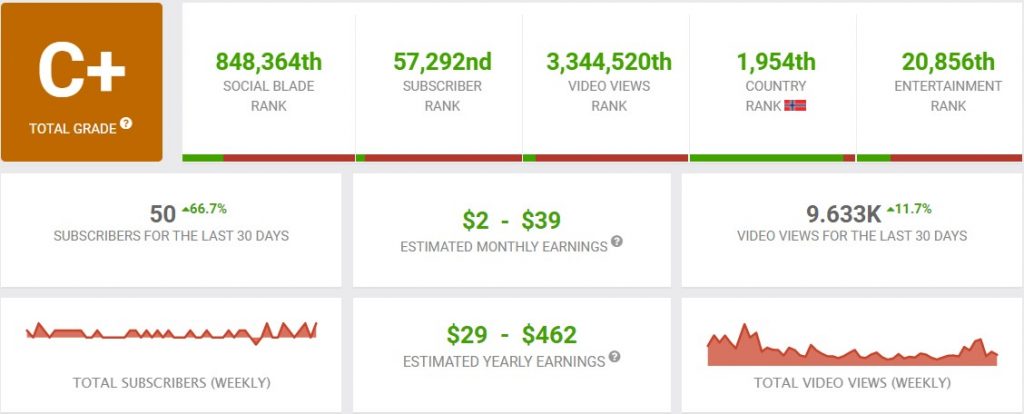 Kongebonus Youtube is an active channel with 1.44k + subscribers. Established on 30th November 2019, the streamers routinely broadcast highlights and videos of their biggest casino winnings on this channel. Their total number of views is 389,148. Even though they do not have a large following on the platform, their constant uploads are gradually increasing their viewership.
Kongebonus Biggest Wins
The following are some of Kongebonus's biggest wins:
Mega big win on Crazy Time
Crazy Time is a famous live dealer casino game with a large earning potential that was released in June 2020. The wheel of fortune is at the heart of the concept of this exciting and unusual game show developed by Evolution gaming. At the center of the wheel, there are 54 segments and three different colored flappers.
The multiplier is doubled or tripled depending on the part of the wheel it is on. Until the segment hits a maximum multiplier of 25000X, the money wheel keeps spinning. This game was a huge win for Kongebonus! They won a whopping 500X which is Kr 75,150.
Mega big win on Wild Frames
Cluster slot Wild Frames by Play'n GO is a vintage-themed classic slot. With a stake of €0.20 up to €100 per spin, the game does not follow typical slot pay-out principles. You can win up to 7,000 times your bet by forming clusters on the reels. Cascading reels with multipliers and Wild Frames add excitement to the game while making it simple and enjoyable. Kongebonus walked away with a stunning 501X return on his Kr 10 bet.
Insane win on Reactoonz
Reactoonz is a Play'n GO-created online slot that features an 8X8 grid. The 7×7 game grid is invaded by a swarm of colorful, highly animated aliens. The minimum wager is €0.20, and winning combinations are produced by matching groups of symbols. Playing Reactoonz is a great way for everyone to have the best possible chance of winning. Kongebonus won an incredible 1604X on a KR 50 bet and got KR 80,237 as a result.
Kongebonus' Most Played Casinos
Kongebonus.com provides the most up-to-date information about the best online casino bonuses. The casinos they recommend are licensed providers with high turnover rates. The following are some of the Kongebonus' frequently played list of casinos:
Casumo
CasinoDays
Goodman Casino
Spinaway
Slotbox
MegaRush
Rapid Casino
Is Kongebonus Legit?
Since they place real-time bets using their own money and win, Kongebonus is a legit group of casino streamers. When it comes to online gambling, they provide an honest rating and only play at reputable sites. Their website is dedicated to protecting gamers against fraudulent sites and high wagering requirements.
Social Media Presence
Kongebonus does more than streaming and uploading to Twitch and YouTube. Additionally, they are quite active on the following social media channels. The streamers use these platforms to provide guidelines on various slots, bonuses, and other details for their casino followers. They also engage with their fans through social media, which is a big plus!
Instagram

Kongebonus Instagram has 448 followers. They post frequently about their favorite casino bonus codes, giveaways for their fans, and more on this platform. They've only recently started posting on Instagram, so we should expect to see a lot of new and exciting content from them soon!
Twitter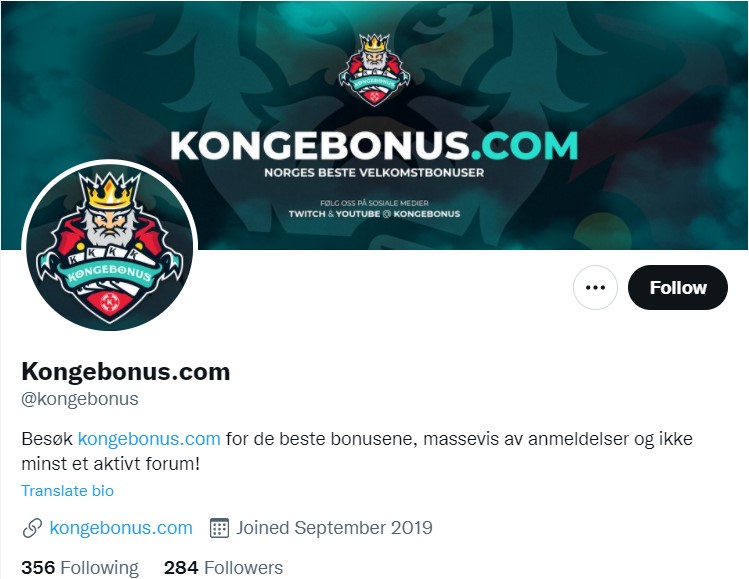 Kongebonus Twitter has 270 followers. The majority of their posts focus on stream highlights, giveaways, bonus codes, and stream schedules, among other things.
Discord
Kongebonus Discord has 1,606 members. Fans can join this community to communicate with the streamers and learn more about their upcoming giveaways, tournaments, stream schedules, and much more!
Why Watch Kongebonus' Streams?
It took a while for Kongebonus to gain traffic on their channels. After a few brief YouTube videos, they established a small following. Everything changed, however, when they began streaming daily and started winning large sums of money. A growing number of individuals are tuning in to their live streams.
Kongebonus viewers think that there's never a dull moment when they tune into the streamers' broadcasts. Kongebonus's slot games and bonus hunts are guaranteed to be exciting. They strive to offer non-stop adventure and entertainment in an engaging casino gaming environment. You can also buy their merch from their official website.
Conclusion
Kongebonus is emerging as a well-known online casino streaming group. After a big win, you'll watch Kongebonus streamers burst with excitement. Even the live chat window is affected by this. If you're looking to have a great time with other slot lovers, you should check out Kongebonus's Livestream.
FAQs
Where Can I Watch Kongebonus Streams?

What Are Kognebonus's Biggest Wins?