The VegasLowRoller slot hunter is a well-known YouTuber who has a massive number of niche viewers on his channel. VegasLowRoller and his viewers have a close relationship as they support each other. The channel has been listed many times as one of the top casino YouTubers in the industry.
Welcome $7777 Bonus + 300 Free Spins On Top!

*T&C Apply

Welcome Bonus 500% up to $2,500 + 50% Cashback

*T&C Apply
Who Is VegasLowRoller?
The famous VegasLowRoller slot hunter is a bald guy with lots of tattoos and earrings. He is a 6-foot man and has a chihuahua mix dog named Gigi that he adopted from an animal shelter. Making VegasLowRoller slots videos helped him with his social anxiety. But who is VegasLowRoller, and how did he start his career?
Bio
VegasLowRoller slots' real name is Daniel Lorenzo Manachi. He was born in Beirut, Lebanon, in the middle of the civil war. In a birthday stream on the VegasLowRoller channel in 2017, Dan did an hour of QandA's about himself. Dan did not reveal his actual birthdate and age, but he said in the video that he is soon turning 40.
He moved from Los Angeles to Las Vegas, Nevada, in 2011 and is believed to be 44 – 45 years old today. Besides being a gambler and YouTuber, he is also a PR Marketing Consultant. He doesn't have siblings, and he said he was engaged in 2017, but there is no other information about his relationship status.
YouTube Career
Dan is the name his viewers like to call him; he's a low-stakes gambler on YouTube. In 2018, VegasLowRoller organized his first SlotCo, or a forum where he shared his life experiences. Before he started his YouTube career, he said that he became a producer of an online game called Fallen Age and has worked in marketing for years.
The VegasLowRoller slot hunter has also openly revealed how he suffered from severe social anxiety as he was a 515-pound man at the age of 23. His love for his viewers, who always supported him, made him wake up and turn things around. During the SlotCon, Dan proudly said he lost 244 pounds in one year without surgery, and his viewers were very proud of him.
VegasLowRoller Net Worth
The gambling content of the channel has an enormous effect on the VegasLowRoller net worth. He earns from Patreon, donations, merchandise, monetization, and other sources. There are no actual figures on VegasLowRoller's net worth, but you can estimate. His Patreon ranges between $8 – $1,000, while his merch is priced at $16 – $36 per item.
In the Speakrj.com report using their default CPM range, VegasLowRoller's slots channel has an estimated annual income of $21.4K – $480.8K. Estimated monthly revenue is from $1.8K to $39.5K. Reports from the site us.youtubers.me claim that VegasLowRoller's net worth increased, with his monthly revenue rising from $287.75 in September 2021 to $856.58 in March 2022.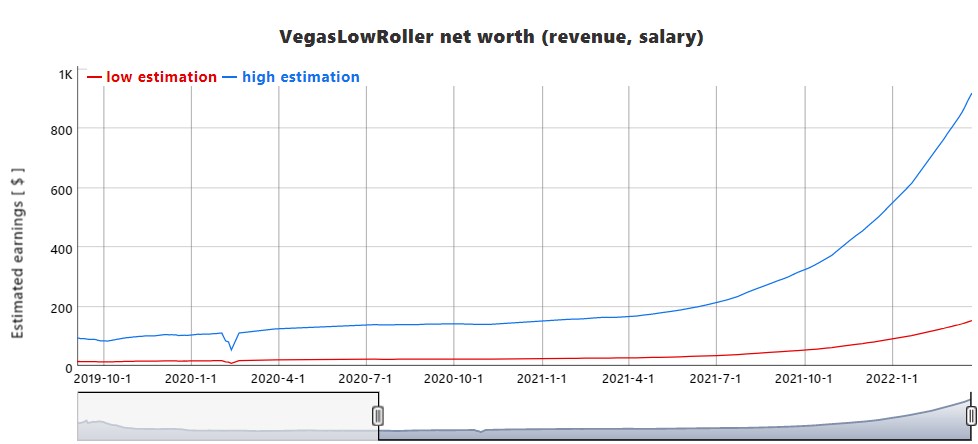 Active Streaming Channels
VegasLowRoller's live streams happen on his main channel on YouTube. He has fifteen different playlists, allowing for all of his videos for fast and easy browsing. Subscribe to the VegasLowRoller YouTube channel (@youtube.com/c/VegasLowRoller), where he uploads his Vegas adventures and backlogs of his evergreen slot content at least twice a week. Here is more about the famous YouTube channel:
YouTube Channel
Daniel, the creator's real name, never revealed the reason behind his channel's name. However, it's likely because he is a low roller in slot machines and is from Las Vegas. Currently, the VegasLowRoller slots channel has over 153K subscribers who watch his unique gameplay and huge jackpots on the slot machines.
The channel has over 99 million views, and VegasLowRoller posted his most watched videos in February of 2018, which had over 1.8 million views. On the latest viewing data, dating from the 24th of February to the 2nd of March 2022, the views of the last seven days reached 1,349,846, which is 200K less than the previous week.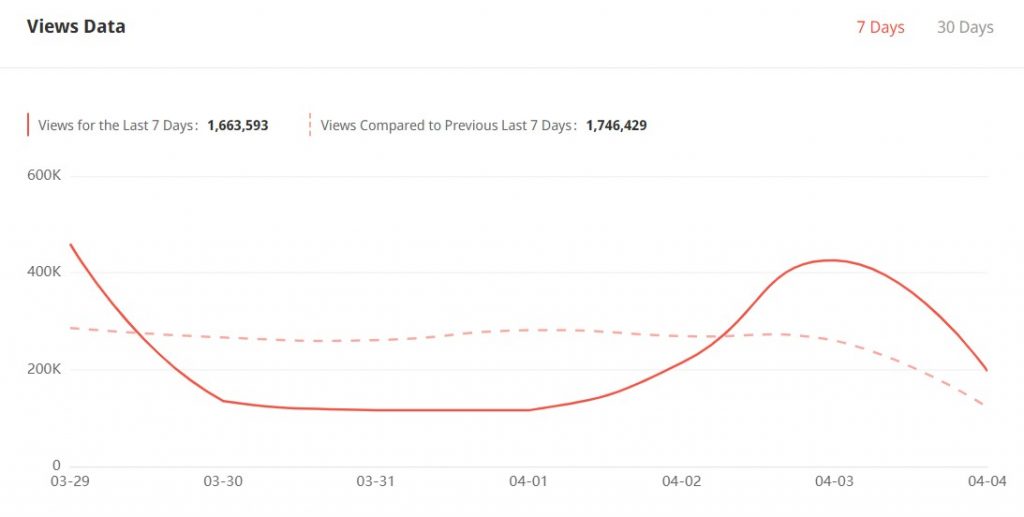 What Makes VegasLowRoller's Streams Stand Out?
The famous VegasLowRoller slot hunter reached the 50K milestone in August 2017, and four years later, he earned his 100K subs milestone on YouTube. That number has been continuously increasing, but why do people watch him? One reason is his unique gameplay, and he is known to make low stakes on slots and table games at a casino.
Gambling Tips for Beginners
If you are a first-time player and want to win massive jackpots like him, then you are on the right channel. Dan said that it was his parents who introduced gambling to him. He watched them and learned how to play and win. VegasLowRoller slots also provides gambling tips for beginners. Sometimes his mom, or Mama VLR, will be featured in his videos, and she also shares great tips on how to win cash at casinos.
Does VegasLowRoller Use Fake Money?
His viewers love to ask about his casino experiences. One asked about his opinion on the news that casinos will ban people from filming while playing. He directly answered that he was once asked to stop filming, which he did but continued once the attendant left.
Does he use fake money? No, he is a gambler who travels to different land-based casinos in Las Vegas and other places. You can actually see in some of his videos where he inserts cash on the machine.
Social Media Pages
To increase the online presence of his VegasLowRoller YouTube channel, Dan made different social media accounts, including Tumblr (@vegaslowroller.tumblr.com), Twitter, Facebook (@facebook.com/VegasLowRoller), and Instagram to provide updates, giveaways, and share promocodes that his viewer can use on his merch. However, he doesn't have a Discord and just uses the comment section on YouTube and Facebook to chat with his viewers.
Instagram

Who is VegasLowRoller on Instagram? If you want to be notified about Dan's life in and outside the casino, you should follow his IG at @instagram.com/vegaslowroller. He has over 2,000 followers who enjoy his posts detailing where he is, what he is currently doing, GIGI and food.
Twitter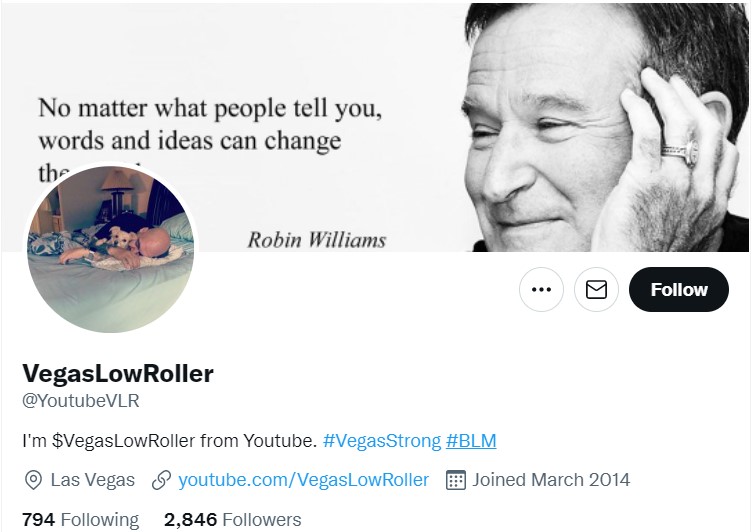 If you want to get more personal updates on Daniel, joining his almost 3,000 followers on Twitter (@twitter.com/youtubevlr) is a great idea. The owner of the VegasLowRoller YouTube channel is known to be very open to his viewers. That is why, instead of making social accounts and focusing on casino updates, he uses it as his personal account and talks about what's on his mind.
Final Thoughts
Daniel had challenging experiences in his life. He was bullied because of his weight, which made him lose his self-confidence. But with the help of his mom, friends, and viewers, he became stronger. The low stake slot machine player that used to be mistreated is now one of the most-watched YouTube influencers in the industry.
He has an account on all social media sites except Discord. In a forum, a viewer said, "his upbeat and entertaining videos always brightened my day." This is just one of the many touching comments about the streamer. There is no doubt that Daniel found his niche and audience in this industry. Check out his channel and watch out for videos where he gives tips and promocodes you can use on his merch.
FAQs
Why Watch VegasLowRoller Streams?

How Much Is VegasLowRoller Worth?

Does VegasLowRoller Provide Tips for Beginners?