Online gaming and streaming service Twitch is a global phenomenon. People have become more interested in watching online video games and casino games in recent years. Fans love tuning in to see their favorite streamers get into the gaming spirit with some spontaneous slots or Call of Duty action.
One such famous COD and slot streamer in the industry is Wuskindash. In this guide, we will provide a complete overview of the Wuskindash streamer, his net worth, biggest wins, and many more interesting details.
Welcome Bonus 500% up to $2,500 + 50% Cashback

*T&C Apply

Welcome $7777 Bonus + 300 Free Spins On Top!

*T&C Apply
About the Wuskindash Streamer
Wuskindash is a professional Call of Duty Esports player and a budding Twitch streamer. Wuskindash's real name is Bradley Marshall. He was born in Gorton, Manchester, on May 30, 1997. It was in 2006 that Wuskindash and his identical twin brother, Skraps, discovered Call of Duty, and they were hooked. During Call of Duty 4: Modern Warfare, he really got into it.
It wasn't long until Bradley stumbled upon a guy called Luskin, who was always in the top 10 of the leaderboards on both hardcore and S&D modes of Call of Duty. Having been a huge fan of theirs, Bradley chose to name himself after him after getting his first PlayStation and simply altered the 'L' to a W.'
Streamer name
Wuskindash
Real name
Bradley Marshall
Date of birth
May 30 (Age 24)
Country
United Kingdom
Origin
June 9, 2016
Followers
58.7K followers (Twitch)
Channel Rankings
Ranked #3,196
#1,349 English language channel
Highest viewers
12,589
Total views
1,379,056
Stream language
English
How He Gained Popularity
In December 2016, Wuskindash made his professional debut as a member of Team 3G. Fnatic took notice of him and Skraps, and in January 2017, they signed them to play in CoD: Infinite Warfare with them. They were released at the same time, though, in September of 2013. For the WWII season, they then moved to UNILAD Esports in November 2017.
As part of the UNILAD roster, Wuskindash joined Team Reciprocity in September 2018 and stayed there for a year. On September 18, 2019, he joined the London Royal Ravens, with his brother following a few days later. On September 8, 2020, they were released from the Royal Ravens, along with everyone else on the roster, save Seany.
London Royal Ravens have signed Wuskindash for the first season of the city franchise league launched by Activision in 2020.
He was featured in an October 24 player profile on the London Royal Ravens YouTube channel.
Wuskindash's Net Worth & Earnings
The exact Wuskindash net worth is still a mystery. He should be earning at least USD 6,425 every month as a base salary. He receives tier subscriptions, affiliates, sponsorships, donations, and Twitch cheer bit contributions in addition to his team wage and tournament earnings. Esport earnings estimate his tournament earnings at more than USD 208,000, which is the minimum annual salary for CoD professionals.
About His Streaming Performance
Wuskindash is a Twitch Partner who started his Twitch channel on June 9, 2016. His streaming performance is detailed below.
Twitch Channel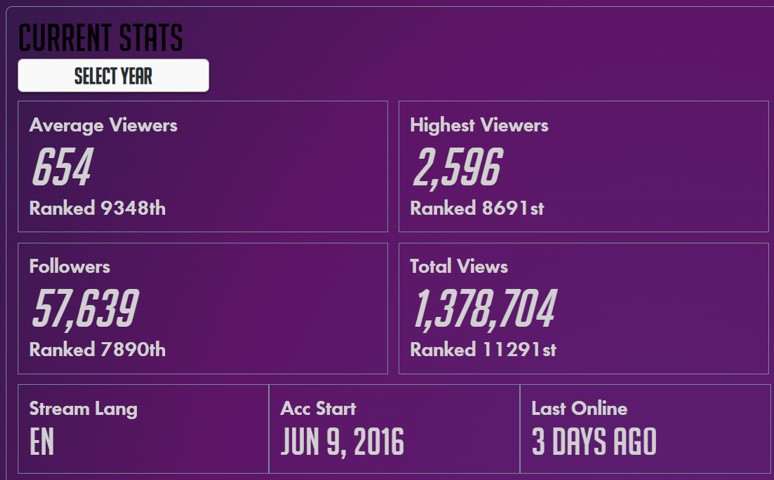 The Wuskindash Twitch account has 58.7K followers, making him a popular streamer. He streams a limited selection of games since he mainly streams slots. In 2022, Wuskindash streamed on the platform for a total of 823 hours. Every day, Wuskindash streams for at least five hours. According to his Twitch statistics, Wuskindash presently has 1,378,704 total channel views.
In 2022, Wuskindash mostly streamed slots, with 3,496 hours of gameplay. Wuskindash also broadcast Grand Theft Auto V for 496 hours in 2022, along with Call of Duty: Warzone for 345 hours.
Wuskindash frequently streams and plays Call of Duty: Vanguard on Twitch. He has spent 235 hours in 2022 streaming and playing Escape from Tarkov on the platform. In 2022, he streamed and played VALORANT for 38 hours. He also streamed Golf With Your Friends for seven hours straight.
Recently, Wuskindash streamed and played Just Chatting on Twitch for six hours. He also played Fortnite and Red Dead Redemption for five hours straight.
Casinos The Wuskindash Streamer Prefers
The great majority of Twitch's most popular gambling streamers use Stake to stream their games. Hence, Wuskindash also prefers playing and streaming at Stake Casino.
Biggest Wins
The biggest Wuskindash wins have mainly come from playing The Dog House slot machine. The Dog House is a five-reel, three-row video slot with 20 fixed pay lines from Pragmatic Play. He put a $7 bet and won a stunning $6,072.15 over the course of 20 free spins. On another occasion, he won a whopping $5,786.40 in 7 free spins on a $4 stake.
Wuskindash also earned a whopping 5,454 dollars playing Starz Megaways for eight free spins on a ten-dollar bet.
Starz Megaways is a Pragmatic Play online slot that employs Big Time Gaming's Megaways concept to provide up to 117,649 ways to win on each bonus spin. The game's RTP is 96.48%, and the top payout is 10,000X your stake.
Why Watch His Streams?
Wuskindash is a dedicated and passionate streamer and player. He has consistently worked hard to reach where he is. His slot streams are always fun to watch. Wuskindash has collaborated with other popular streamers such as Xposed and does fun streaming sessions.
The following is a rundown of Wuskindash's accomplishments.
As a member of the CWL Pro League, Wuskindash was selected to the All-Star team in 2018.
On September 17, 2019, Wuskindash became the first official signing of the Call of Duty League when he joined the London Royal Ravens.
Wuskindash was a Call of Duty League All-Star in 2020.
Wuskindash was named CDL 2020 Marksman of the Year.
Does Wuskindash Use Fake Money?
No, Wuskindash uses real money to play his games. He is a legitimate streamer with a long history of winnings as a professional Call of Duty player. Therefore, he wouldn't risk his reputation by playing with fake money.
Social Media Pages
Wuskindash is quite active and has subscribers across all social media platforms. He also has his personal website at wuskindash.com. The website has details of his social media pages and greatest hits on Stake Casino.
Twitter Account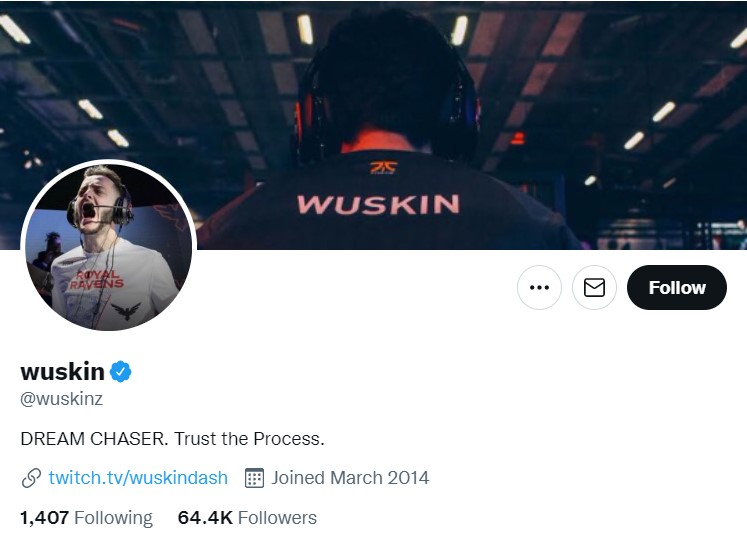 The Wuskindash Twitter account (@twitter.com/wuskinz) has 64,400 active followers. The streamer is quite active on the platform, tweeting his thoughts, opinions and stream updates on a regular basis.
Conclusion
Wuskindash is a skilled and professional streamer and a player who is entertaining to watch. His game strategies can be quite useful for COD or slot enthusiasts. He streams regularly for extended periods, which shows his commitment to the community. Overall, he is a great streamer to watch and follow.
FAQs
What Was Wuskindash's Biggest Win?

Does Wuskindash Use Fake Money?