Many online streamers have found their niche in the slot gambling community and have been enjoying popularity as of late. The success of these people continuously attracts new streamers. One of them is Mr. Mike Slots. But who is Mr. Mike Slots on YouTube?
Welcome $7777 Bonus + 300 Free Spins On Top!

*T&C Apply

Welcome Bonus 500% up to $2,500 + 50% Cashback

*T&C Apply
Who Is Mr. Mike Slots on YouTube?
Many gamblers who broadcast their gameplay on Twitch and YouTube are slot machine players. Mr. Mike Slots is one of them, playing in various land-based casinos. He's a man with a mustache and beard who often wears casual clothes and carries a black body bag.
Streamers rarely provide details about themselves for safety reasons. Mr. Mike Slots' real name is Mike, but his age, civil status, and birthday are still unknown. In this article, you will learn about the journey his streaming career has traveled, gambling tactics, and Mr. Mike Slots' net worth.
Early Life
According to the "About" section on his channel, Mr. Mike Slots loves to travel from California to everywhere in the world to play slots. He started his channel because people around him always asked, "Hey, Mike, why don't you record your slot play?" and now he has one of the fastest-growing channels in YouTube history.
Channel Development
Mr. Mike Slots joined YouTube in January of 2021. Mike made his channel for sharing all his casino experiences with his viewers. He wanted to show the reality of slot machines with all his wins and losses.
Mr. Mike Slots made a good impression in his channel trailer, where he shared his winnings over the previous period before he started being a YouTuber. The recommendations from his best friend NG Slots also helped him gain more subscribers. Who is Mr. Mike Slots on YouTube? This was the question that many started asking, and that's where his career started.
Becoming a Famous Streamer
One good thing about Mr. Mike Slots, whether he wins or loses, is that he remains in a great mood and looks for another slot to play. This is one reason why his subscribers love to watch his videos. The channel reached the 20K subs milestone only nine months after he posted his first-ever slot video. As of April 2022, Mr. Mike Slots' channel has 35.3K subscribers and has an average of 100 new subscribers a day.
Mr. Mike Slots' Net Worth
Based on the recent streaming stats of the channel, the website Starstat.yt was able to estimate Mr. Mike Slots' net worth. According to their report, Mr. Mike Slots' net worth is $88,767 as of April 7, 2022.
The channel earns $280 a day, $1,960 a week, $13,315 per month and $53,256 annually. Take note that this estimation is only based on the average revenue of the channel. Mr. Mike Slots has ads, membership, and super chat features in addition to his streams.

About the YouTube Streaming Channel
To be successful in this industry, other than making high-quality content, looking for your niche audience is important. Mr. Mike Slots seems lucky enough to have attracted the perfect viewers for his gambling content.
The streaming stats of the total views of Mr. Mike Slots in the last seven days is 384,443 views which is 30,000 more views than the previous period. The highest numbers were recorded on April 3, with 47,114 new views and 62,116 on March 27, 2022. The overall views of over 500 handpays and jackpots videos in the channel are 14,683,111.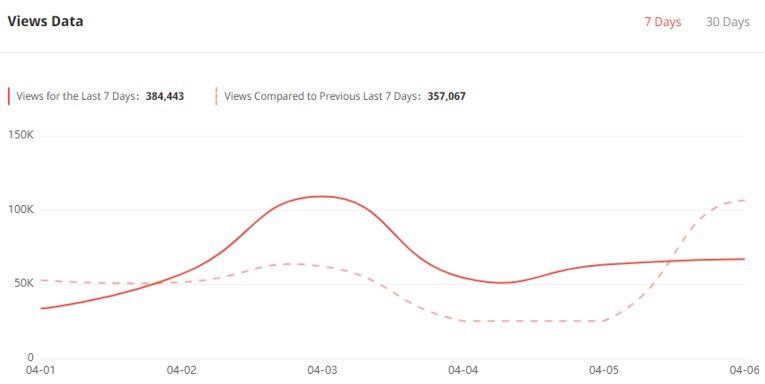 The Casinos Mr. Mike Slots Prefers to Play At
If you want to get a chance to meet and watch Mr. Mike Slots play live, he loves to visit casinos in Las Vegas, especially The Cosmopolitan and Wynn. He has also been seen in Graton Resort and Casino in California and Atlantis Casino in the Bahamas. You should follow him on his social media to stay up to date on which casinos he will be playing at.
Why Watch Mr. Mike Slots?
Mike is a high-limit slot player with unique but easy gameplay. He's very down-to-earth and grateful to his subscribers. He also answers slots-related questions.
Bet Sizes
Mike's usual bet size can go from $25 to $100 or more, depending on what type of casino game or slot he is playing at. His cash-in can go between $2,000 and $10,000 on his live streams.
Wins
The featured video on his channel is from when he won $13,413.25 on Buffalo Link and another $2,700 on his first game. It was a live play on September 21, 2021, marking his first-ever grand jackpot on YouTube. You can also watch Mr. Mike Slots' playlist of his big wins and huge handpays on his channel.
Loses
As Mike always says, "Only play what you can afford" because even a professional like him can lose a huge amount of money on each play. However, his biggest losses are hard to track because sometimes a full $2,000 cash-in disappears in just minutes.
Social Media Pages
Some of the social media platforms most used by streamers are Facebook, Instagram, Twitter, and Discord. This helps them spread their content more and gain more viewers. Here they also share updates and various links related to their channel.
Mr. Mike Slots has two official social media accounts, Facebook and Instagram. His Facebook account (@facebook.com/MrMikeSlots) contains duplicates of his handpays and big wins slot videos and a few casino updates. He also likes to reply to his 5.2K followers in the comment section. His Instagram account (@instagram.com/mrmikeslots) has 1015 followers, but he is not as active here as on Facebook.

Is Mr. Mike Slots a Fake Streamer?
Discussions about streamers being fake have always been out there. As a high-limit slot player, it is easy to think that Mike could be a fake streamer. However, it is not true.
Mike is a good friend of well-known streamers NG Slots and Bomba Slots. They are even called "The Three Musketeers" by their viewers. These streamers are real gamblers and YouTubers who play, win, and lose real money.
Conclusion
Like many casino streamers, Mike said he only plays for entertainment and not to earn money. His channel is entertaining, and some of his viewers said they could relate to him because of his realistic plays and reactions. Mr. Mike Slots started as a casual gambler who loved to play and spend money on slot machines. Today, he is ranked 57th on the Top 100 casino streamers globally.
FAQs
Who Is Mr. Mike Slots on YouTube?

How Much Money Does Mr. Mike Slots Make from YouTube Streams?

Is Mr. Mike Slots a Fake Streamer?