As the online streaming industry grows, the number of Twitch and YouTube creators increases directly with it. One of the most successful casino content creators on YouTube is NG Slots.
Welcome $7777 Bonus + 300 Free Spins On Top!

*T&C Apply

Welcome Bonus 500% up to $2,500 + 50% Cashback

*T&C Apply
Who Is NG Slots?
The name NG Slots online came from the creator's real name, Narek Gharibyan, a 34-year-old married man with a day job. He chose to upload his first-ever NG casino slots video on YouTube instead of competing against famous streamers on Twitch. So how did a single NG live slots video make Narek one of the renowned casino YouTubers today?
Real Life
Who is NG Slots? Narek was born on the 3rd of November, 1988, and he currently resides with his wife and three children in Los Angeles, California. However, the famous NG Slots online streamer's nationality is actually Armenian, and he moved to LA in 2015 to become a US resident.
The main job of NG Slots online isn't broadcasting. Apart from being a YouTuber, NG Slots has his own jewelry business in the US and Moscow, Russia.
Streaming Super Star
Is NG Slots fake? No. His 339K subscribers can prove that NG live slots streamer is real and is supported by many. NG slot started in 2017, uploading a three-minute slot video without showing his face and with no energetic reactions, earning him few subscribers.
Who is NG Slots? People started to ask this question, and then started watching his most recent uploads. Slowly, he climbed to popularity, earning his YouTube Silver Play Button three years after.
NG Slots Net Worth
Because he keeps his earnings private, there are no definite figures as to what NG Slot's net worth really is. He earns from YouTube monetization, recent slot winnings, Patreon, merchandise, affiliate, and his own business. According to Statsmash, NG Slot's net worth as of March 2022 is $1.3 million.
He earns an average of $20,000 monthly on his live streams and videos. NG Slots Patreon account (@patreon.com/NGSlot) offered tiers between $2 – $1,500 per month. He currently has ten active patrons that enjoy exclusive content from the streamer.
His NG Slots merchandise website ng-slot.creator-spring.com under teespring.com is where his subscribers can support him by buying his merch at $20 – $50. NG Slot's net worth can be estimated with this data. However, the payments from his affiliate casinos and real job income are not included.
When and Where to Watch His Live Streams
You can watch NG live slots videos on his YouTube channel – @youtube.com/c/NGSlot, and he mainly uploads one video a day. He made a different playlist for his videos for fast browsing. However, there is no set schedule for NG Slots online streaming on YouTube and Facebook. Follow and subscribe to his official accounts to watch his most recent uploads and be updated.
YouTube Streaming Channel
Looking at NG Slots online viewer performance data from March 2021 to March 2022, you will see that the views vary but do not strikingly differ from each other. NG Slots channel has an average of 500K views per month.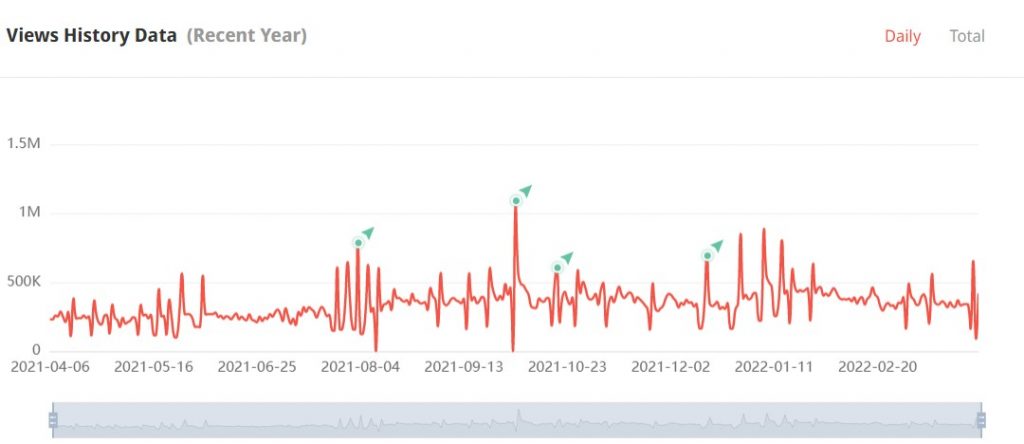 His most-watched video posted in October 2021 has garnered 1.08 million views. NG Slots reached the 200K subscriber milestone on the 2nd of August, 2021, and four months later, he reached the 300K subscribers on YouTube.
NG Slots Biggest Wins
Is NG slots fake? Although the creator never commented on the issue, his viewers laugh at it. Looking at NG casino slots videos, you will see that he wins jackpots after jackpots. This winning has been a great addition to NG Slot's net worth.
Below are some of Narek's memorable wins:
$15,757.00 on the Buffalo Gold Wonder
First, on the NG Slot's biggest win list is his $15,757.00 jackpot in 2019 on the Buffalo Gold Wonder. Two minutes on NG Slots live stream on the 29th of May, and he already unlocked the 2nd level using the first free spin out of eight.
In the end, he collected 15 buffalos and a total of $20,158.00. It's one of NG Slot's biggest wins and Wonders 4 Tall Fortunes Buffalo Gold Slot machine's biggest hand pay jackpot in YouTube history.
$20,100.00 on Dragon Cash Mega Jackpot
Another entry on NG Slot's biggest win happened last the 28th of December 2020 when he won the Mega Jackpot on Dragon Cash. Three minutes on the stream, he had already won over $3,000 on the bonus round, was calmly chatting with his viewers, and kept changing his bet size.
He was losing his momentum and asking his viewers if he should cash out. He went from $100 to $200 and back to $100 bet for a $2 denomination. At the first spin, the panda magic happened. NG casino slots won $20,100 after getting the $10,000 slot, and two months later, he won another $21,280.00 breaking his record.
$4,466 on Diamond Slot Machine
NG Slot's biggest win on YouTube history happened on Black Diamond Slot Machine. The NG live slots video was uploaded on the 5th of May 2020, when he played various slots before he saw a new game he had never played before.
He put $500 cash and started the game with a $27 bet. On his 10th spin, NG Slots online streamer won the major jackpot of $44,668.12.
Why Watch NG Slots Live Streams?
Narek's channel contains his many NG casino slots videos. But although he has the user name "NG Slots," latest videos he posts are not always about just one game. He also plays roulette, blackjack, and more. Narek is also very passionate about giving high-quality content to his audience.
Favorite Casinos
NG Slots does live play gambling in land-based casinos in America. He travels and visits various US casinos for NG live slots broadcasts. Last year, he celebrated his birthday in The Cosmopolitan, where NG live slots are usually filmed.
Types of Slots He Prefers to Play
Whenever an NG Slots online broadcast takes place, you will see that he often changes slot machines, moving from classic to moder, and back again.
Some of NG casino slot's favorites are Buffalo Deluxe, Mighty Cash, Fire Wolf, 5 Treasures, and Rising Fortunes. Check out NG Slots' latest videos on YouTube to watch him try to win.
Social Media Accounts
Is NG Slots fake? No, he is a real person who performs live-play casino broadcasts. You can connect with him through the following:
Instagram (@instagram.com/ng_slot), where NG Slots shows his 24.2K followers that he's just a family guy who loves to gamble.
Facebook (facebook.com/NGslotOfficial) to see NG Slots' live stream updates, giveaways, and affiliate casino links, along with his over 59K followers.
Recently, NG Slots reopened his Twitter account (@twitter.com/ngslot), where he shares short clips of his winnings.
Check out and follow his social media accounts to be notified of his recent gambling and private life updates.
Is NG Slots a Fake Streamer?
People like to speculate on websites like Reddit about streamers' scams. However, on these platforms, you won't see a single post like "Is NG slots fake?" or "Does NG Slots use fake money?" This is excellent proof that he's not a fake streamer, and everyone acknowledges it.
Conclusion
The popularity of NG live slots videos in the industry is a result of Narek's diligence and perseverance. His charismatic and energetic personality, very down-to-earth character and gambling style attract many viewers. Not to mention his high-quality NG casino slots content. He also refuses to use clickbait thumbnails and titles, earning viewers' trust.
At the end of the day, he is just a guy with the real name of Narek – a husband and a father of three. With over 300K viewers, no one can say if NG casino slots has reached the peak of his popularity. Narek is proud and grateful to his community, who always support him in everything.
FAQ
Does NG Slots Use Fake Money?

How Much Does NG Slots Make on YouTube?

What Happened to NG Slots?