YouTubers believe they have found their niche in making casino slot videos. Who wouldn't want to earn money while gambling on a slot machine at a casino, right? One such streamer is MG2. But who is MG21, and why do people watch the channel?
Welcome Bonus 500% up to $2,500 + 50% Cashback

*T&C Apply

Welcome $7777 Bonus + 300 Free Spins On Top!

*T&C Apply
Who Is MG21?
One of the top casino channels in the industry is MG21 Slots. Unlike other streamers, the channel MG21 is not managed by one single person. It's run by a married couple named Max and Gretchen. However, they're keen on keeping things private to protect their personal lives and maintain their privacy. Subsequently, MG21 net worth data and personal details are not disclosed to the public.
Early Life
The "MG" on the MG21 YouTube channel stands for the couple's real names: Max and Gretchen. The "21" is still a mystery for everyone. They are from the West Coast of the United States and have long been visiting land-based casinos in Las Vegas, Nevada. There is no other information about their age, children, and surnames.
Channel History
The couple joined YouTube on March 26, 2018, but did not start their YouTuber career until July 2019, when they uploaded their first video. Like any other broadcaster on YouTube and Twitch, they started as a small account. The channel used to only post slots, Blackjack, and their massive hand pay jackpots. Later, they began doing promotional videos and live streams.
Popular YouTube Streamer
The couple, who started as a small channel, grew after all their hard work and now have a massive viewership. MG21 now has a viewership of 148K on YouTube and a total of 116,883,928 views in four years in the industry. It is true that the couple found their niche and fully dedicated themselves to running their channel. It has also become their main source of income.
MG21 Net Worth & Income Estimated
Because of the couple's lack of transparency, there is no actual figure on MG21 net worth. However, it is known that MG21 Slots earn from affiliate deals, promotions, merchandise, sponsorship, and big wins. They do not have Patreon, but their merch sales also affect MG21 net worth, thanks to their large viewership.
YouTube Income
A YouTube channel earns from monetization, viewership stream elements, promotional videos, and MG21 slots have all of the above. According to Statsmash, MG21's net worth is $181,000 as of February 2022. With a CPM of $0.2 – $4.5, the estimated monthly income of MG21 can be anything from $14.2K up to $318.5K.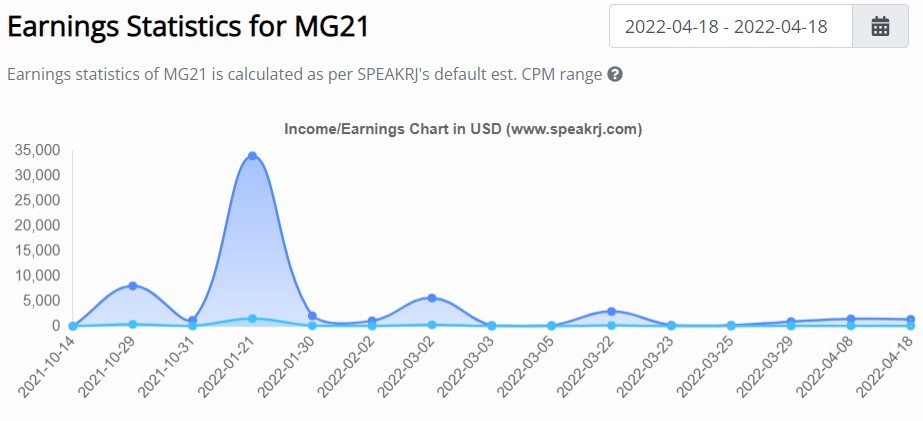 Where and When To Watch Their Streams
MG21 Slots used to upload and stream daily to their YouTube account. However, they stopped three months ago. What happened to MG21? No one knows, and even their viewers are searching for the reason and trying to find out when they will be back. While waiting for the famous couple's return, you can watch their past videos on their channel.
YouTube Channel
Who is MG21? MG21 Slots is one of the most-watched and fastest-growing YouTube channels with casino content. Speakrj.com reported that the MG21 YouTube channel (@youtube.com/channel/UCkayrib1qoNkK2a8XavACNQ) has an average of 3,000 new subscribers a day. The slot gambling channel has gained 34,000 new subscribers since May of 2021. The daily viewership on the channel has increased from 86K to over 116K total views across the 2,133 videos on the channel.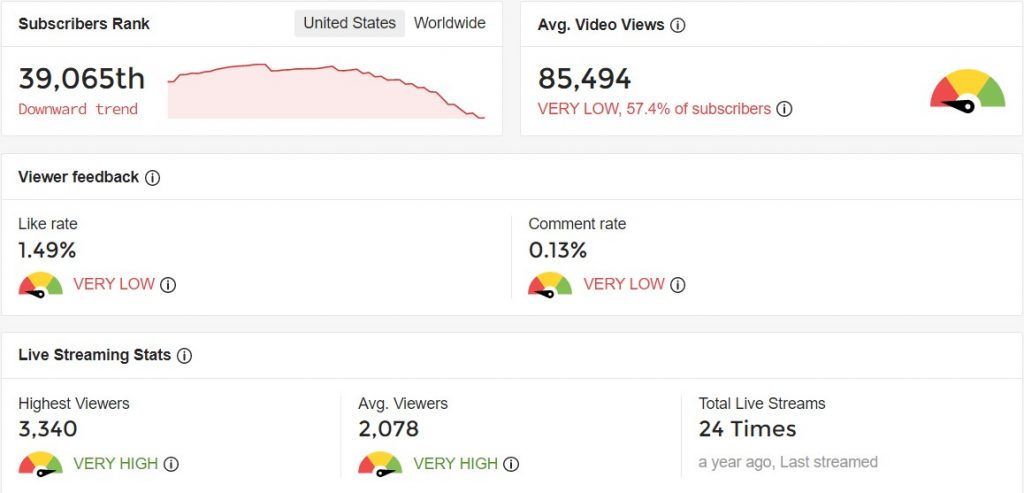 Favorite Casinos MG21 Plays At
MG21 Slots travel around the country to play at different land-based casinos, especially in Las Vegas. They mostly feature the City's most popular casinos, such as MGM Springfield and Mohegan Sun. The couple is well-known for playing on Dragon Link, Liberty Link, Lock It Link, and their favorite, Blackjack.
Why Is MG21 Slots So Popular?
One of the reasons they are popular is thanks to their unique personalities, their massive wins and their talent at casino games, especially Blackjack. Unlike other casino slots YouTubers, MG21 viewers love to see the couple play and win huge Blackjack hand pays. They are more experienced in that game than slots. They also teach and advise their viewers on how to win different casino games.
The couple is also well known for their donation program. Even if MG21 accepts donations from their viewers, all of the proceeds go to Camp Rising Sun. It is a non-profit organization for young cancer patients. This charity has touched many hearts, and even their viewers have helped them reach more people.
Social Media Profiles
Social media is essential for YouTube and Twitch streamers for building a stronger online community. In most cases, if a viewer asks the question 'who is MG21?', they would check social media first. Unfortunately, MG21 doesn't have an official Facebook or Discord account and has only ever communicated with its viewers through the Instagram and YouTube comment section.
Viewers can find casino promo codes and giveaways on their posts and in the description box. However, the MG21 Slots Instagram account was deactivated, alongside the comment section on their videos.
The only social media that MG21 had was the Twitter account @twitter.com/mgslots2 they made in 2021, but they are not active on that either and last used the account a few days ago. Their viewers have been wondering what happened to MG21 and if they will ever come back.
Final Thoughts
The American MG21 Slots channel on YouTube took its name from an abbreviation of Max and Gretchen's real names. It was once recognized as one of the Top 7 YouTube slot streaming channels. MG21 is a simple couple who has a great passion for gambling and saw the opportunity to earn on YouTube. They do not have Patreon or channel membership, but with a massive viewership, sponsorship, merch sales, and millions of views, MG21's net worth grew continuously.
Even if they do not regularly stream or post new videos, their viewers have always been supportive, especially in their charity and donation run. They give back to their viewers by making entertaining and informative content and giving out promo codes that their audience can use.
Now that you know who MG21 is and what they do, including their journey to success, it is time to watch their massive win videos in slots and Blackjack. You can also enjoy a few travel vlogs from the couple on their YouTube channel. They do not have social media such as Facebook, Instagram, or Discord for now, but there are still many viewers who wait for the couple's return on YouTube.
FAQs
Which Casinos Does the MG21 Prefer?