The online gambling industry continues to grow in tandem with the growing volume of streamers. Most are lured to the potential earnings available as a broadcaster. One streamer who found success in this industry is TrainwrecksTV.
Welcome $7777 Bonus + 300 Free Spins On Top!

*T&C Apply

Welcome Bonus 500% up to $2,500 + 50% Cashback

*T&C Apply
Who Is TrainwrecksTV?
A Texan man by the name of Tyler Faraz Niknam is behind the account name TrainwrecksTV. He's also now one of the biggest online streamers and slot machine players.
| | |
| --- | --- |
| Streamer Account | TrainwrecksTV |
| Real Name and Age | Tyler Faraz Niknam (32) |
| Location | From Texas, recently moved in Vancouver Canada |
| Stream Started | June 26, 2015 on Twitch |
| Special Talents | Loudmouth and sharp comments |
| Favorite Casino | Stake Casino |
| Recent Biggest Win | $8,751,500.00 in Starz Megaways (February 2022) |
TrainwrecksTV Twitch account is continuously growing, with 43,857 new followers for February 2022. Broadcaster Trainwreck did 320 hours of live streams and reached its peak viewer number of 64,819 on the last 7 days from February 26. According to Trainwreck streamer's monthly Twitch stats, his most-watched videos are his slot games.

Content Offered
Who is TrainwrecksTV? His real name is Tyler Faraz, born in 1990. He is from Texas but is now based in Canada. His viewers describe him as the crazy Texan Ape with a great sense of humor. Trainwreck's streamer career started in 2015, though he had different content back then, unlike other streamers. His viewers started noticing TrainwrecksTV slots games in 2019.
How did TrainwrecksTV get famous? Trainwrecks has a lot of content to offer to his viewers. Besides Trainwrecks slot games, he has a Scuffed podcast where he comments on various topics. He was also an Esports player before starting his online gambling career. There is also content where he collaborates with other broadcasters, and he even posts videos relating to his life outside gaming.
TrainwrecksTV Net Worth and Earnings
Prominent online casino broadcasters don't disclose their net worth to the public. This includesTrainwrecksTV.
TrainwrecksTV net worth was estimated at $1.4M. But considering the number of followers, views, winnings, and affiliate links, TrainwrecksTV net worth is likely more than that. There is a way to estimate the Trainwreck streamer's net worth and earnings. But the size of his winnings, donations, personal assets, and other revenues will be excluded.
According to IgFace, TrainwrecksTV Twitch account has average earnings of $1.2M per video. On his YouTube account, Trainwreck's net worth is $36,000 as of January 2022. To consider Trainwrecks earnings on his affiliate links, let's assume that a casino pays him $100 per sign-up, and 10% of his 1.8 million followers use his link – that alone is $18M. In total, we can estimate TrainwrecksTV net worth stands at $19.2M.
Where and When to Watch the Streams
Where does TrainwrecksTV live stream his games? TrainwrecksTV Twitch account and YouTube are his main channels, but he only streams in Twitch and uses YouTube to post replays and pre-recorded videos of his other content. Trainwreck streamer has scheduled streams on his Twitch. However, he likes to be flexible with his schedule.
He is usually online from 5 PM – 8 AM PST the next day. Fifteen hours of streaming is enough to cover all locations and makes it easy for his Ape gang to join him in gambling anytime and anywhere.
Which Casino Does TrainwrecksTV Play At?
Trainwrecks' gambling usually takes place in Stake Casino. It's a vast and licensed crypto casino in the US where you can play slot machines and other online gambling games. Stake Casino has many excellent bonus rounds and special features to give the player more chances of winning. Trainwrecks use crypto like BTC and ETH in Stake Casino.
Stake Casino is known for its promotions, and viewers can use TrainwrecksTV Stake code to get a 15% Rakeback instead of the usual 10%. Tyler has been actively promoting Stake on his social media accounts by posting his affiliate links. If you want to try playing at Stake Casino, TrainwrecksTV Stake code is APE.
Is TrainwrecksTV Legit, or Is It Another Fake?
Tyler Niknam has been open about speculations and even answered questions about his personal life. His real name, birthday, life outside slot gambling, even questions such as where does TrainwrecksTV live are already answered. Issues regarding fake bets and winning have never been proven due to a lack of evidence. However, he has had many good and bad experiences ever since he became a broadcaster.
Such experiences include Trainwreck streamer being called fake, banned more than once, and accused of metagaming in GTA V. The first issue seeing TrainwrecksTV banned from streaming happened in 2015, and he received another ban in 2018. In 2021, EA released a statement, with TrainwrecksTV banned from an Apex Legends tournament due to gambling.
TrainwrecksTV Slots and Top Games
Tyler's broadcasts are not only TrainwrecksTV gambling but also about his Esports and CS: GO gaming. You can check out his Esports and CS: GO games on his Twitch channel and Discord. Various high volatility slot casinos appear in TrainwrecksTV slots gambling, such as Ankh of Anubis, Book of Shadows, Razor Shark, and many more.
Usual Bet Size
Trainwrecks slots games are always exciting as he is a high roller. He bets around $1,500 up to max slot bets to the dealer to increase his bonus rounds and multipliers to get more winnings.
Biggest Wins
The start of 2022 has been good for Tyler so far. He just recently broke his record on his most significant win ever. In January 2022, he got his $5,761,600 win in Ankh of Anubis after 2 out of 10 free spins. Just a week later, he and his friends celebrated his most significant victory to date with total winnings of $8,751,500 as Starz max win in 6 free spins.
Biggest Loses
TrainwrecksTV's gambling losses have been disclosed to the public by Tyler himself. According to the broadcaster, his friends know that he lost over $22.9 million in 9 months and only got back 55% of his losses. He said he was uncomfortable saying it to his viewers because it is a vast amount of money.
Other Social Media Channels
In total, Trainwrecks has more than 2.5 million viewers and followers. He was 4th on the most-watched streamers in Twitch for January 2022. How did TrainwrecksTV get famous? It was all because of his passion for gaming, streaming, and his connection with his fans. TrainwrecksTV's way of connecting with his fanbase is through social media accounts, which he uses to share updates and chat with them.
Twitch
The TrainwrecksTV Twitch account, used for live broadcasts, has 1.8 million followers. His Twitch account started in 2015, but his channel does not always play slot machines in different online casinos. TrainwrecksTV is a great entertainer, online gamer, and commentator. During the US presidential race in 2020, he was the second most-watched streamer on Twitch. Follow Trainwrecks on Twitch if you want to be notified once he goes online.
YouTube
Trainwrecks content on YouTube is somewhat different from the Twitch account. On the TrainwrecksTV Twitch account, you will mostly see him playing other games. However, on his YouTube account, he posts various content. Trainwrecks Scuffed Podcast, IRL videos, CS: GO, collaborations videos, and gaming are all posted on YouTube. If you want to see more of Tyler's content, join his 202K subscribers on his YouTube account.
Twitter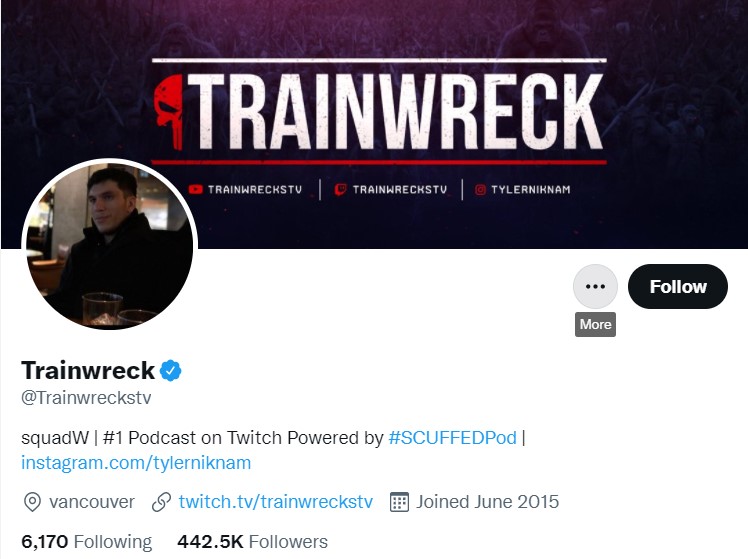 TrainwreckTV has over 432K followers on its Twitter account. Besides his rants and stream updates, he mainly uses Twitter to post anything about gambling. Trainwrecks TV has also posted giveaways to his followers, and these are often huge amounts of money. Follow TrainwrecksTV if you want to be updated on his streams and giveaways.
Instagram

Trainwreck streamer is a simple 32-year-old man who has a dog named Petunia and loves protein meals. He uses Instagram to post photos of his car, his achievements, and his friends. Follow TylerNiknam on Instagram to learn more about him and what he does outside the streamer life. He has 92.7K followers on Instagram that enjoy seeing the personal life of Trainwreck TV.
Discord
Trainwreck TV's Discord account is under Ape Nation, which has 58.1K members. Discord is where he chats with his followers, answers questions, and does giveaways. He also shares affiliate links on Discord since Twitch started to ban streamers who post their affiliate links on their broadcasts.
What's Special about TrainwrecksTV Gambling Channel?
If you search "Who is TrainwrecksTV?" on the internet, you will see that he is popular and unique from any broadcaster on Twitch. TrainwreckTV is a creative and high roller player with many pieces of knowledge in the online casino industry. Other than the various content he offers to his audience, his blatant personality and sharp comments on current issues make him unique.
Final Thoughts
How did TrainwrecksTV get famous? The name Trainwreck streamer is renowned in both achievements and issues. His different experiences also motivated him to continue providing entertainment to his viewers. The problems that saw TrainwrecksTV banned due to his straightforward personality have actually helped him to become more popular.
Metagaming, fake money bets, winnings, and a rude personality – he has been accused of and called many things. He bravely apologized, explained his side of the story, and accepted his punishment. Trainwrecks is a broadcaster who provides good quality content to his viewers. TrainwrecksTV's net worth is only one piece of evidence that he is a legit and successful gambler who found his niche in this industry.
FAQs
Where and When to Watch Trainwrecks TV Streams

Does TrainwrecksTV Use Fake Money?