Casino streamers are becoming increasingly popular as a way for players to keep up to date with live stream gambling. There is a growing market for casino streamers in today's world. Gambling is a popular pastime throughout the world, but it is especially popular in Scandinavia. ProdigyDDK, one of the most popular YouTubers and Twitch Streamers in the world, hails from the Nordic country of Denmark.
Welcome $7777 Bonus + 300 Free Spins On Top!

*T&C Apply

Welcome Bonus 500% up to $2,500 + 50% Cashback

*T&C Apply
About the Casino Streamer ProdigyDDK
ProdigyDDK is a 22-year-old Danish Twitch streamer who has gained a large following. ProdigyDDK real name is Joshua Hammerich, and he covers a wide range of topics in his videos, including online and Bitcoin casino gambling. On his streaming channel, he delivers countless hours of gameplay and entertainment. When he's not spending money or taking part in bonus hunts, Prodigy takes trips around the world, visiting places like Japan and Germany.
Facts About the Streamer
When it comes to streaming, ProdigyDDK isn't the type to endorse every casino under the sun on his channels. He prefers playing at casinos that accept Bitcoin as a payment method. The casinos he enjoys the most to stream and win at are Stake, mBit, and Oshi.
Streamer name
ProdigyDDK
Real name
Joshua Hammerich
Country
Denmark
Origin
Jul 12, 2013
Followers
150,000 (Twitch)
251,000 (YouTube)
Favorite Casino
Stake casino
Specialties
Top 0.03% of Twitch
Channel Rankings
#34 most-watched Slots channel
#14 most-watched English Slots channel
Highest viewers
3,215(Twitch)
Total views
3.46M (Twitch)
49,043,278 (YouTube)
Stream language
English
Sub count
3,384
Hours watched
64,237
Popularity and Main Achievement
ProdigyDDK was hooked to gambling from a young age. Even before entering the live streaming world, ProdigyDDK was a well-known Counter-Strike player who had been featured in numerous trade magazines. This is one of the reasons why Joshua was able to stand out from other streamers.
There were several social media accounts maintained by Joshua even before he entered Twitch streaming in 2018. He gained popularity among viewers due to his cool attitude and approach towards slots.
ProdigyDDK: Net Worth
ProdigyDDK net worth and earnings are undisclosed. The streamer has made no mention of how much money he makes. According to common indications, the slot industry expert ProdigyDDK has a substantial net worth. On both Twitch and YouTube, he has a massive following. He's also a Twitch affiliate, which brings in a lot of money.
Besides this, ProdigyDDK earns well from casino affiliations, advertisements, sponsorships, tournaments, raffles, and casino winnings.
Favorite Games & Slots Providers
ProdigyDDK enjoys interacting with new bonus slot machines. The following are some of the titles he highlights in his sessions:
Deadwood
Tome of Madness
Testament
The Dog House
Fruit Party
Razor Shark
El Paso Gunfight
Sweet Bonanza
Western Jack
We weren't surprised to see that several of the slot machines described above are also quite popular among casino lovers. All European countries appear to have a similar gambling market. Stake.com, for example, is well aware of the benefits of working with well-established developers like Pragmatic Play, NetEnt, and Push Gaming, to name a few.
Prodigy is a slot machine player who also takes advantage of live dealer games. On YouTube, he even has a playlist dedicated to the Evolution Gaming game Monopoly. He also plays crazy time and possibilities – everything the market currently has to offer.
This variety appeals to the audience. Thousands of people are frequently present during all streams, and they often express specific requests in the live chat, which he happily implements if it is in the best interests of the audience.
Where to Watch ProdigyDDK Streams
Although he has accounts on every social media platform, Prodigyddk streams only on Twitch. If you can't make it to the stream in person, you can still see the highlights on YouTube and the official ProdigyDDK website. On his channels, the Dane does not provide fixed schedules. He, on the other hand, typically begins his broadcasts late in the evening and remains in front of the camera until about noon. His schedules are usually prepared last minute and updated across all of his social media sites.
Twitch

Twitch ProdigyDDK has 150,704 followers. He is a Twitch Affiliate who primarily streams Slots. He was ranked 2,604 at the end of the month. In the last 30 days, ProdigyDDK had good traffic with an average of 1,711 viewers and a maximum of 3,215 watchers, averaging 52.8 hours of streaming time. His Total views on Twitch are currently at 3,510,649.
YouTube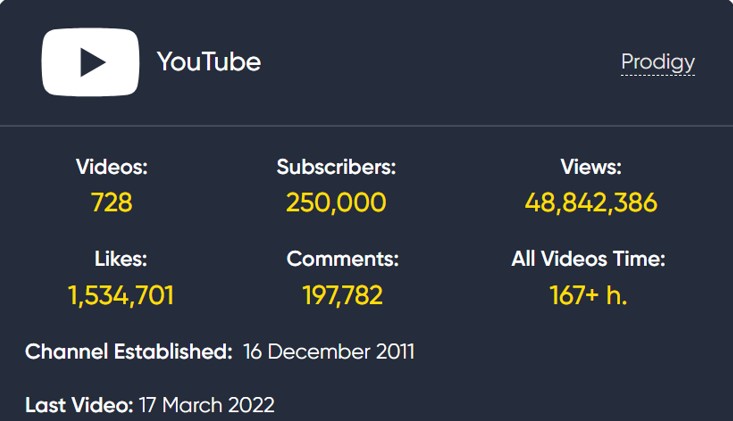 Completed Twitch sessions and highlights are uploaded on Joshua's Prodigy YouTube channel, which has 251,000 subscribers. Many of these subscribers are from Denmark. He explains in the bio that he likes to spend a lot of money to keep his live feeds exciting. ProdigyDDK Highlights are available on YouTube for anyone unable to watch them live.
CS: GO and Minecraft, two of Joshua's favorite games, are playlists he's developed to great benefit. Stake Casino highlights, Monopoly wins, and Bonus Hunts can all be accessed by subscribers without having to sift through the rest of the content. The following YouTube playlist is quite popular among ProdigyDDK fans.
Latest highlights and uploads
Popular clips
What Makes ProdigyDDK Special to Watch?
As a niche gambler, Joshua has established himself as a cool and calm personality. On live chat, he is friendly and open with his subscribers.
In Denmark, Joshua Hammerich leads an ordinary life. He doesn't flaunt expensive watches, he doesn't stand in front of fancy automobiles, and he's more of a person who rises to popularity with his charm rather than through a series of controversies.
The Twitch star from Denmark sleeps very little and can go nearly 12 hours streaming live. He's the only one who has the energy to stream for so long. Because of the positive atmosphere he creates, there is no sign of boredom even after hours of watching his streams.
The fact that ProdigyDDK broadcasts and uploads in English is a huge plus for his global audience. For those who live outside of their native country, the choice of language makes it easier for them to keep up with him.
Social Media Presence
ProdigyDDK social media presence is quite large because he lives off his earnings as a streamer. We examined Joshua's activity on several social media platforms and the content he shares there. Apart from ProdigyDDK discord, you can find the streamer quite active on the below platforms.
Instagram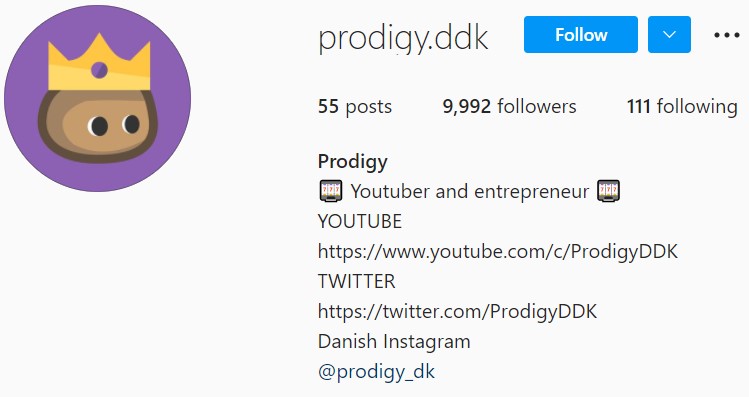 On Instagram, Joshua Hammerich greets his nearly 10,000 followers with a smile. It's through his Instagram that we get a look into his personal life away from gaming and live-streaming. ProdigyDDK frequently posts photos of delicious foods and drinks. The Dane clearly has a taste for fine cuisine. There are times when he takes a break from work and travels to Japan or Germany to relax and recharge.
Twitter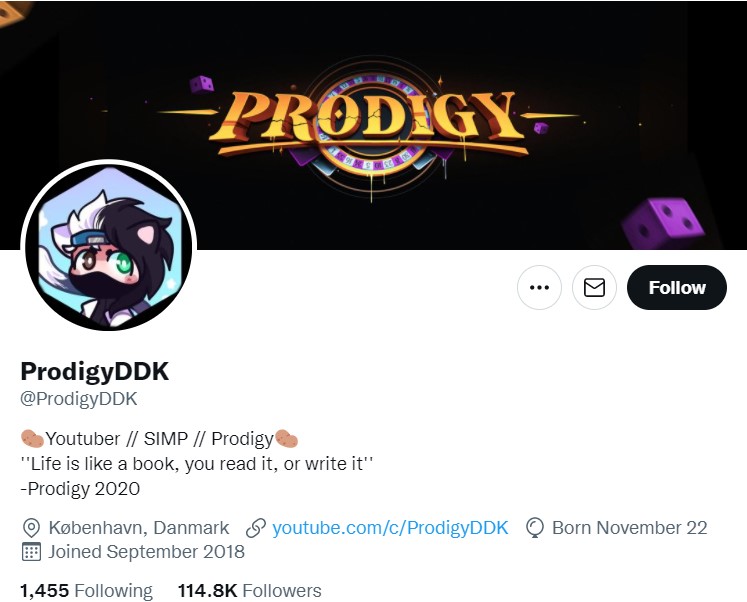 September 2018 was when ProdigyDDK created his Twitter profile. 150,000 people follow him on this site alone, and they are all fans of slot games and the world-famous shooter Counter-Strike. Most of his tweets are about games that he enjoys and other topics that he thinks are amusing. One of the many things Joshua tweets about is exclusive mobile offers for Danish players.
On Twitter, you won't see anything personal from Joshua, but he does have a unique sense of humor, as evidenced by a few of his tweets. His professional side, which includes his live-streaming and Twitch successes are not overlooked. To ensure that even the most ardent followers of his streams are kept up to date, he issues announcements well in advance.
Final Thoughts
Joshua Hammerich, alias ProdigyDDK twitch has grown into a renowned streamer in Denmark. The streamer is one of the few people in the public eye who can boast of a "clean slate" free of scandals. In his spare time, he plays Counter Strike: Global Offensive (CS: GO) or one of the many other popular video games available at an online casino. His sole source of income is from streaming, which includes his successful career as a YouTuber. Overall, he's a fantastic streamer to watch and enjoy.
FAQs
Does ProdigyDDK Bet Real Money?

Which Platforms Does ProdigyDDK Prefer for Streaming?