Slot machines are popular among casino players because anybody can play and win. Many people enjoy playing slots in land-based or online casinos because they are fun and relaxing. If you've ever taken an interest in online or land-based slot machines, you've probably come across the Stop and Step channel online.
In this article, we will discuss the Stop and Step channel in detail, including their biggest slot win and favorite casinos.
Welcome Bonus 500% up to $2,500 + 50% Cashback

*T&C Apply

Welcome $7777 Bonus + 300 Free Spins On Top!

*T&C Apply
Who Are Stop and Step?
Stop and Step is a niche UK-based online slot channel. The real name of the channel's owner is Darren. He is an Englishman who has been a YouTuber since 2012. When it comes to online slots, Stop and Step is unique in that the presenter doesn't simply display the best of the best but also uploads footage from gambling arcades, bookmakers, and land-based casinos. The slot world is depicted as it is in this honest and accurate channel.
It's astonishing to see Stop and Step sneak into world-famous casinos and slot machine parlors with his camera hidden. His stories and tests reveal that he enjoys what he does and that he does it to have fun and express his views to the people who watch his YouTube channel.
Streamer name
Stop and Step
Real name
Darren
Country
United Kingdom
Origin
May 24, 2012
Followers
2,200 (Twitch)
77.5K (Youtube)
Total views
69,663,091 (Youtube)
Stream language
English
The Beginning of His Career
Initially, Stop and Step's videos were of poor quality, but they were loved by users since they were unique at the time. You would often see him perform without a voiceover in the video, but still, viewers could keep track of his game's progress.
Gaining Popularity
Stop and Step routinely uploaded multiple videos to YouTube, resulting in a substantial increase in the streamer's views. His content was and still is a bit out of the ordinary, which makes it appealing to a wide audience. If you look at his first two videos, you'll barely see any views at all. However, these numbers gradually increased over time.
The Stop and Step streamer started to add even more creative material to his content that everyone became familiar with. By visiting real-life casinos, playing interesting online slots, delivering honest reviews, and having an open forum for the casino community, he was able to bring even more thrill and fun to slot enthusiasts.
Stop and Step Estimated Net Worth
Stop and Step's net worth is still undisclosed. However, the streamer has a decent net worth and earns decent money through his YouTube channel revenue, advertisements, affiliate links with an online casino, and slot game winnings. His YouTube channel's estimated yearly earnings are between $2.4K – $38.3K.
Slots Streaming Accounts & Content Uploads
The Stop and Step Twitch channel is relatively new, with just 2,200 followers. His main content comes from his YouTube channel, which is explained in-depth below.
YouTube Channel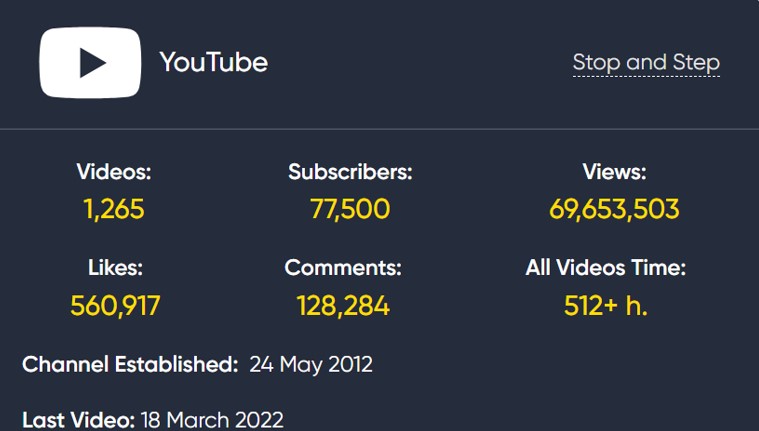 The Stop and Step slots YouTube channel sees the owner upload slots-based content in a variety of video formats. One video shows him playing conventional slots, while another shows him visiting casinos and bookmakers and trying to comment on everything in front of him, making his content more fascinating than it would be if it were just a hidden camera.
The Stop and Step YouTube channel sees new videos posted on Tuesdays, Wednesdays, Thursdays, and Fridays at 4 p.m. UK time. The videos feature entertaining topics, such as tours of Las Vegas casinos and highlights of online slot winnings. You can also see him flying in a helicopter at the Casino de Monte Carlo, then bringing his viewers the most exclusive footage from the casino's interior.
Casinos Stop and Step Plays At
Other than playing at land-based casinos, the streamer also plays online slots at the following reputed casinos:
777 Casino
MRQ Casino
Playzee
888 Casino
The Grand Ivy Casino
Stop and Step's Favorite Games
Darren enjoys playing roulette-style machines in UK bookmakers as well as physical replicas of classic slot machines in casinos around the UK and overseas. These games include Rainbow Riches, Spartacus, and Sherlock Holmes. His favorite online slot games are listed below.
Jammin' Jars
Online slot Jammin Jars was developed by Push Gaming and has a potential jackpot of 20,000 times your bet. High variance gameplay is provided by a cluster-based video slot game that includes multipliers, walk-through wilds, and massive symbols.
Goonies
Developed by Blueprint Gaming, The Goonies is a 20-pay line online slot game that has a 96% RTP and a 500x top prize. You'll find bonuses like free spins and multipliers in the form of bonus games and multipliers. It's also a high-volatility slot game.
Primal Megaways
Developed by Blueprint Gaming, Primal Megaways uses Big Time Gaming's Megaways concept. Six reels are used, but the number of reels that appear on each spin is random. Every spin can result in as many as 25,000 different ways to win.
Why Watch Stop and Step Streams
Darren keeps his viewers up to date by posting videos about the latest games to arrive on the internet or in conventional casinos. He makes an effort to cover everything his audience would be interested in and provides them with a comprehensive guide. Viewers gain a better understanding of the mechanics of the game they're seeing, which ultimately saves them both time and money.
Bet Size
Stop and Step's bet sizes range from 2 euros to 50 euros, depending on the type of game he plays.
Biggest Wins
The 50K subscriber special in the summer of 2019 has been Stop and Step's most significant win to date. For big stakes, Darren played the Who Wants to Be a Millionaire slot and was fortunate enough to win close to £10,000. Another remarkable win was £1,300 on a bookie's FOBT machine in 2018 with a bet of £50.
Loses
Although the specifics of Stop and Step's losses remain unknown, we know that Darren has both wins and losses, just like any other genuine and serious slot player. The channel is completely open and honest about the reality of gambling, both in-person and online.
Social Media Accounts
The Stop and Step Twitter account has 2,647 Followers. Aside from that, Stop and Step also has a well-known website with information on casino bonuses, online casino reviews, and game reviews, among other topics. His website even includes a news section that he updates daily. News on the gaming industry and how it is impacted by various events can be found there. If you visit the player's forum section on his website, you'll find a lot of chats and positive reviews from his loyal fans.
Conclusion
Stop and Step's slots videos can be enjoyed by everyone, regardless of whether they are familiar with the gambling industry or have ever played at a casino slot machine. At the very least, it's worth viewing since you can feel the creator's emotions while he captures his videos. You can't stop viewing these videos; you'll be fully immersed in them. Darren's videos are therefore eagerly awaited by his followers, thanks to his reviews and experiences.
It is safe to say that Stop and Step has the kind of in-depth knowledge of slot machines and other gaming machines that only comes from spending countless hours in a casino. This channel is well worth your time if you want to learn everything there is to know about old slot machines; everything from the '90s to present-day online slots.
FAQs
Does Stop and Step Make Money from Games and Reviews?

How Much Does the Stop and Step Channel Make?

Does Stop and Step Use Real Money for Bets?