Neily 777 is a slot machine enthusiast who regularly posts videos of himself playing on slot machines. More than the colorful images and the rhythmic music, Neily 777 enjoys analyzing slot algorithms and strategizing on how to beat them. In this article, we will look behind the username Neily 777, so we can better appreciate his content.
Welcome $7777 Bonus + 300 Free Spins On Top!

*T&C Apply

Welcome Bonus 500% up to $2,500 + 50% Cashback

*T&C Apply
Who Is Nelly 777?
If you've been following him, it is impossible not to like his smile and humble attitude. Let's learn more about him.
Early Life
Neily 777 doesn't often use his real name, Neil Ottesen, in his videos. With a Bachelor's in Drama and Dramatics, he has worked his way up to becoming the Regional Manager of Agent Experience in California, after working for Apple as a senior manager for almost eight years. His humble beginnings have aided his fundamentals as a person, and he has always proven to be an inspiration to the people around him.
Becoming a Famous Streamer
Who is Neily 777? How did he get here? Even though his first video was uploaded on YouTube eleven years ago, it took him some time to rise to fame. He started uploading at a consistent rate only about seven years ago and had yet to gather viewers. He hit his first thousand viewers a year later on a slot machine episode and eventually rose to fame. His calm voice and friendly personality conjured up a loyal fan base who, even after all these years, constantly encourage him to upload more videos.
Neily 777's Estimated Net Worth
Neily 777, the owner of an American YouTube channel that has 52k subscribers, has a net worth of $86,000 as of March 2022. The estimate is made based on the Neily 777 YouTube channel alone, where he makes an average of 20-30 dollars a day. After having uploaded upwards of 1.4 thousand videos with 21.4 million views, it is safe to assume that his popularity is still on the rise. To understand more about his statistics, take a look at the daily analysis of his channel views.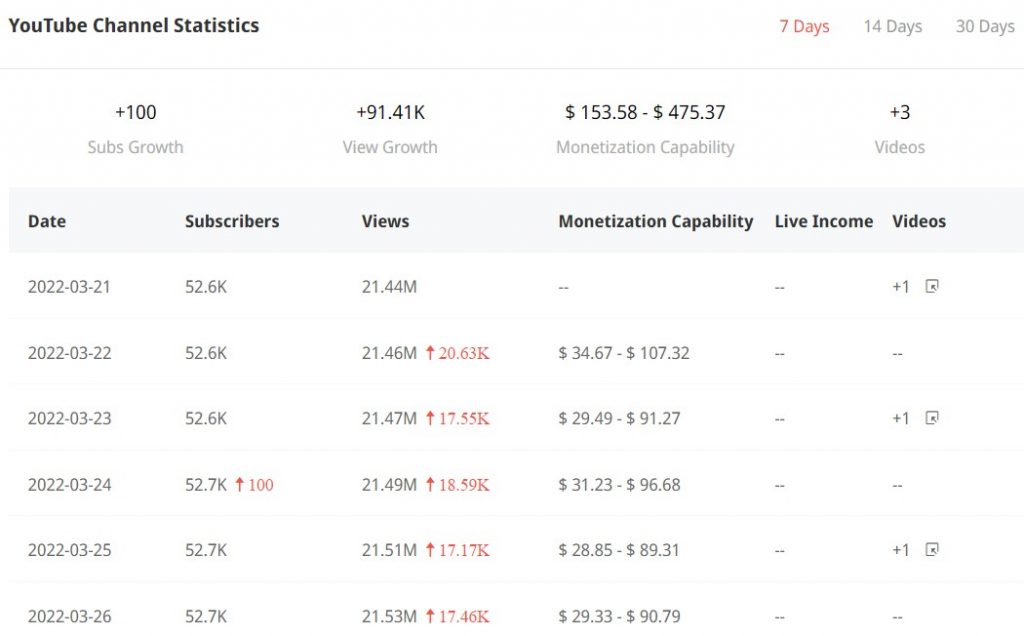 Where to Find the Live Streaming Channel
Neily 777 takes the safe social media route to update his viewers on Facebook and Twitter. This way, you can catch him live and ask him any number of questions until he feels he's had enough.
YouTube
Neil began live-streaming his slot machine games back in July 2017. Unlike other content creators on YouTube, Neily 777 barely conducts live stream sessions or QandA. His streams consist of his slot machine games and jackpots that were luckily caught on camera.
Why Watch Neily 777 Streams?
Neily 777 likes to play the most unusual slot machines. Although certain themes are current and popular, like Game of Thrones and Sex in the City, most of his slots are avoided by regular players for various reasons. While Neil plays slots, his audience enjoys seeing pandas and clowns. His stream characteristics suggest a niche in lesser-known pop culture slot machines.
Casinos He Plays At
Neily 777 seems to have an affinity for the San Manuel Casino, California, as most of his live sessions are recorded from there. He also frequents the Morongo Casino, and the Pechanga casino, also both in California. This leads us to believe that he prefers local slots machines over having to drive to other states to play.
Real Bets
Neily 777 slots is not an affiliate, and he plays and pays out of his own pocket. He doesn't differentiate between a 1-dollar machine and a 25 dollar minimum bet. He sounds genuinely happy with a $200, just as he is with a $20,000 jackpot. Neily 777 is aware of the fact that you don't win big prizes unless you bet big. So, he knows when he may win a lot of money and when he needs to be satisfied with smaller victories.
Highest Wins
Neily 777 has had luck in the oddest of places. From winning $3,000 on a bonus spin to winning over $500,000 from a jackpot and getting 44 free spins to win $24,000. Some of his wins include a High Limit Slot Machine that handed Neil multiple hand pays in a row, resulting in $15,000 cash in hand. Even though he has won big, his best moments are the ones with medium-sized surprise victories like the $4,000 he won on a machine where he bet only $20.
Neily 777: Social Media Pages
Neily 777 is a very active social media personality. In fact, he has his own Patreon blog! Members can recommend new games for Neil. Neil has volunteered to put $20 cash in a machine and let the subscriber choose the numbers! His very secret Facebook page is also included in the deal! What a steal!
Twitter
Neily 777 has a fair number of followers on Twitter. He doesn't use his YouTube username on Twitter, instead goes by his real name. Since this is his personal forum, he is politically active, along with tweeting environmentally friendly tweets and tweets that mention how much he enjoys commercials and tiny tacos. You can follow him on Twitter to get the full picture of this beautiful, fun broadcaster.
Facebook
Unfortunately, Neily 777 is not an active user of Facebook. Although the page directs viewers to his YouTube page and seems to have an active chat, he has no posts shared there. By now, you must have guessed why. He has a secret Facebook group that only Patreon subscribers have access to or people. These people were personally invited by the man himself. You can most certainly send him a message at @facebook.com/Neily-777-108625064781512 and chat with him for yourself!
Conclusion
Neily 777 is hands down one of the hardest working YouTube content creators of his industry, and his progress is proof of that. What he tried 11 years ago was eventually polished and pushed him to fame. Creating a loyal fan base is a difficult task for any YouTuber but maintaining one for all these years is proof enough that he is a delight to watch and follow. After all this, he has more to offer!
FAQs
What Is the Neily 777's Net Worth In 2022?

What Are the Biggest Wins Of Neily 777 Streamer?