Twitch and YouTube are the biggest platforms for streaming. These channels mainly broadcast exciting casino gameplay with massive jackpots to entertain viewers. In being a broadcaster, you have to be fun and unique, like the Slot Cats channel on YouTube.
Welcome Bonus 500% up to $2,500 + 50% Cashback

*T&C Apply

Welcome $7777 Bonus + 300 Free Spins On Top!

*T&C Apply
Who Are the Slot Cats?
Twitch streamers focus on online gambling, while YouTubers go to land-based casinos to play. A couple from Las Vegas joined the slot community in 2018 and has gained popularity since then. Learn more about the Slot Cats YouTube channel and their experiences in winning and losing at their favorite casinos here.
Real Life
The Slot Cats channel owners' real names are Fred and Heidi Clemons. Heidi used to work in the corporate world while Fred stayed at home due to injuries he got while serving in the Navy. At first, they were just casual gamblers who played against a casino dealer until they met the famous Brian Christopher and his group. Since Fred has a background role in film and TV, they decided to record their slot play.
Gaining Popularity
The couple stated that when they made the Slot Cats channel, it was only for fun, sharing their casino experiences and making cat puns here and there. They used to publish only two videos a week. But when they noticed their subscribers growing and reaching milestones, they decided to post one slot video a day. The Slot Cats garnered 17.1K subscribers and are now among the most-watched new YouTubers today.
The Slot Cats Subs Milestones:
1,000 Subscribers – July 28, 2018
5,000 Subscribers – December 11, 2018
10,000 Subscribers – September 09, 2019
Estimated Net Worth
Twitch and YouTube gambling broadcasters earn from views, subscribers, advertisements, super chat and donations, merch, membership, and affiliate links. These streamers do not publish their net worth for security reasons. However, sites like StarStat can estimate the Slot Cats' net worth and YouTube earnings using the channel's current streaming stats and average ads revenue.
Streams
The site estimated the Slot Cats' net worth as of April 8, 2022, to be $37,874. Heidi and Fred can earn $151 a week and an income of $703 every month. They also estimated that the gambling channel could make at least $7,886 a year from their streaming and slot videos. The Slot Cats channel also enabled YouTube features like super chats and membership for their viewers.
Merchandise
They have a section named "Meow Merch" on their official website. This is where their subscribers can purchase their merch such as shirts, hoodies, mugs, tumblers, and hats. Their hottest item is Heidi's cat ears, which are always sold out. Their merch price ranges from $13.00 to $48.00, which is a good source of income for the couple.
Where to Watch the Slot Cats Streams
The highlights of the channel's broadcast and videos are its bonus spins and jackpots. The Slot Cats publish one new video daily and twice on Sundays. They also go live two times a week. The couple renamed their regular Tuesday and Friday live stream "Tacocat Tuesday" and "Cat Crawls Fridays" because of their viewers, or "Cool Cats."
About the YouTube Channel
The Slot Cats' most-watched video to date is one of their earliest uploads from 2018. The video, filmed in San Manuel, has over 480K views and 1,476 likes. The Slot Cats is still a new channel, and its popularity is still not as high as others. However, they have an average of 1,000 new views a day.
Based on the Noxinfluencer report, the Slot Cats channel gained 11,233 views from April 2 to 8, 2022. It was not that high compared to the previous week's report of 10,197, but you will see its changes on the chart below. The Slot Cats has over 6.6M views since their first video in 2018.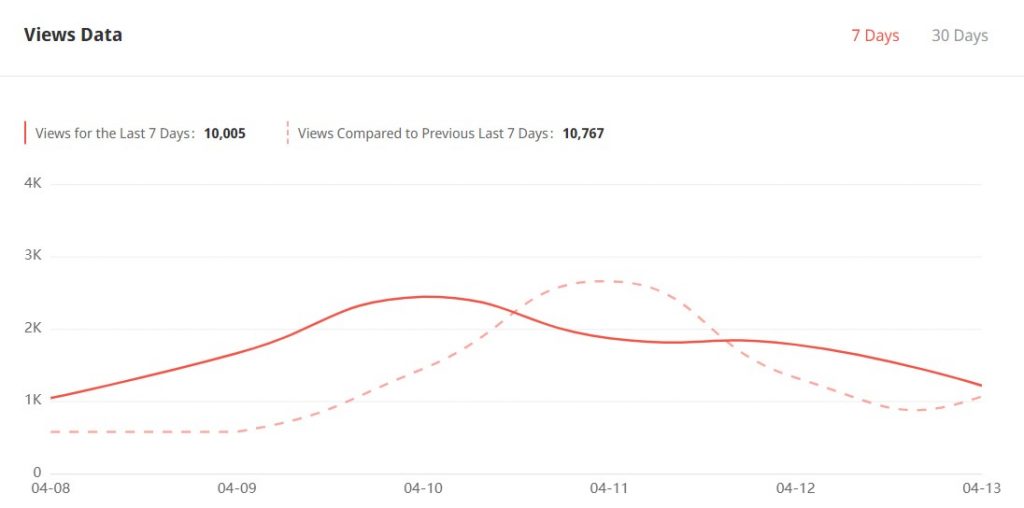 The Slot Cats' Biggest Wins
The couple is not a high roller, so it's rare for them to win a huge amount of money. But the Slot Cats managed to hit the grand jackpot in the 17-minute-long video posted on February 11, 2021. The highlight was when the Slot Cats played Spin it Grand and won $8,373.20. Heidi is also a bingo player, and one of their biggest wins happened unexpectedly in March of 2020.
She was about to meet, play bingo and chat with one of their cool cats when she sat on the Endless Treasure slot machine. While waiting, she put her $20 on the machine and bet $0.88. After some bonus rounds, she hit a major jackpot of $20,366.72.
Social Media Pages
Twitter, Facebook, Instagram, and Discord are the most used for affiliate links, gambling events, and selling merch. Since the Slot Cats have been making an effort to expand their slot community, they have accounts on these social media pages.
Instagram

The Slot Cats' Instagram account has over 1,500 followers, with over 1,000 posts of various photos and videos throughout their careers. The couple uses Instagram to post bonus spin videos, live streams, and other updates. They also share their Instagram posts with their cool cats on Twitter. Check out and follow them @instagram.com/TheSlotCats on IG and Twitter (@twitter.com/TheSlotCats).
Facebook
Facebook (@facebook.com/theslotcats) is the most used social media platform of the Slot Cats. They use it to give updates to their viewers. Their official page has 2.8K followers, and they actively chat under their posts. Unlike other streamers who post duplicates of their videos on Facebook, Heidi and Fred only post the link of their video and use various hashtags.
Official Site
You will see a brief introduction about the Slot Cats and the couple's real name on their official site www.theslotcats.com. You will also see tabs entitled "Events," "Cat Club," "Meow Merch," and "Contact." Events are for their upcoming live streams, meet and greet, slot group pulls and cruising. Cat Club is where you can join their Patreon exclusive membership that ranges from $5 to $100 per month (@patreon.com/theslotcats).
Do the Slot Cats Use Real Money?
The Slot Cats are not your ordinary slot players. They are not high rollers, but they play many casino games such as table games, bingo, and slots. They also play at various casinos in Las Vegas, including Circa, The Cosmopolitan, Green Valley Ranch, and Red Rock Casino, which are strict and with full security.
Their machines can identify fake money, so playing with counterfeit money is impossible. In some videos of the Slot Cats, you can get a glimpse of them swiping cards or inserting money into the machine, and before they say "meow for now," they show a casino dealer counting all their cash winnings on their palms.
Final Thoughts
From a channel that started just for fun, the Slot Cats channel is making a considerable effort to grow its community. They make sure to produce content that shows the reality of gambling to their viewers. The Slot Cats always spend time chatting or meeting their viewers, and some even get a chance to play with them.
In an interview, Heidi said that because of the strict restrictions and closures of casinos during the pandemic, they had to limit their posting to have enough content, and their income dropped.
But that didn't stop the broadcasters and their viewers. They worked harder, and with the help of their "Cool Cats" gifts and donations on their streams, they were able to continue. If you want to see more of the Slot Cats' content, subscribe to their YouTube channel (@youtube.com/c/TheSlotCats). Follow their social media accounts and get a chance to meet and chat with them in person.
Who Are The Slot Cats on YouTube?

How Much Is The Slot Cats' Net Worth?

Where Can I Watch The Slot Cats Streams and Records?