One of the most popular casino streamers today is SDguy1234, a 39-year-old man who loves to play slots. Who is the man behind the famous YouTube channel, what is his nationality, and how did he find a niche audience in the industry so successfully? Read more to find out.
Welcome Bonus 500% up to $2,500 + 50% Cashback

*T&C Apply

Welcome $7777 Bonus + 300 Free Spins On Top!

*T&C Apply
The SDGuy1234 Streamer
SDGuy1234's real name is Brian Templeton. He's an American who's currently living in Sioux Falls, South Dakota. The SDGuy1234 YouTube channel became famous thanks to the broadcaster's unique gameplay and entertaining nature. Here is more information about SDGuy 1234.
Life Facts
The broadcaster graduated in 2006 from the University of South Dakota with a BSc degree in Marketing. His main job since 1999 was creating and managing amusement and vending services for businesses such as movie theaters, malls, and bowling alleys.
There is also a rumor that SDGuy1234 used to work in Hollywood on the famous HBO TV series Entourage in 2004 – 2011 due to an SDGuy1234 Instagram post, but the streamer never confirmed this.
Channel History
Brian, the real name of one of the most-watched YouTubers today, joined the platform on August 28, 2008. The oldest video on the SDGuy1234 YouTube channel is a 1-minute Monopoly Slot Bonus posted on March 29, 2012. The channel's early viral videos made it popular a year later, and there is a video where he won $4,356 on Amazing Airplane that now has over 200K views.
From then on, the popularity of SDGuy1234 grew and it gained its first-ever million views. The title of the video, "$10,000+ Jackpot on .75 Bet," seems to be effective in getting people curious about him. Even if the quality and footage are still at the beginner level, Brian continuously improved as he got better equipment.
Estimated SDGuy1234′ Net Worth
Casino broadcasters have many ways to earn. Their income mainly comes from affiliate casinos, donations, winnings, ads, and other stream elements. Many well-known influencers do not disclose their actual net worth and earnings. Unfortunately, SDGuy1234's net worth is not disclosed to the public. However, one makes an estimate by understanding SDGuy 1234 primary sources of income.
YouTube
Statsmash estimates SDGuy 1234's net worth as of March 2022 to be $290,000 and that he had an income of $4,621 in the previous month. Based on the chart below, his highest earnings were in July 2020, and were about $26,850, and the lowest estimation was $4,470. Another factor that affects his YouTube income is the membership which costs $4 per month, plus the other stream elements he uses.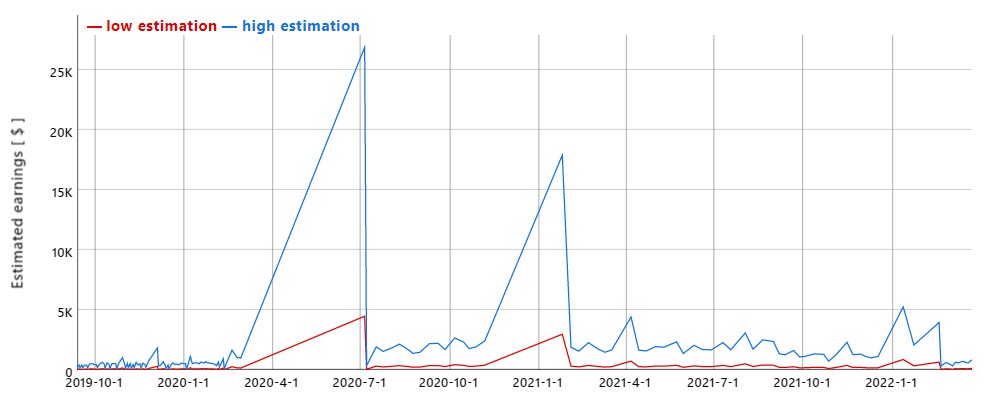 Merch
He has a variety of products that his supporters can choose from, such as custom buttons and magnets, phone cases, t-shirts, hats, and more. All of these are affordable, with a price range of $3.35 – $73.15 and sometimes get sold out quickly due to the size of his audience. His merch sales may provide him with a five to six-digit additional income, giving us a better idea of SDGuy1234's net worth.
Patreon
In March 2022, the SDGuy1234 Patreon account (@patreon.com/sdguy1234) had 446 active patrons. It is a membership platform used not only by gambling streamers but also other content creators. On his Patreon, he has four membership levels (Lemming, Lil Pretty, Zombie, and Minion O Rama). His viewers can make donations from only $2 per month, or enjoy exclusive content when they donate between $25 and $100 a month.
Where to Watch His Streams
You can watch SDGuy1234's streams and videos on YouTube and Facebook. He doesn't have an official schedule for his live streams and usually surprises his viewers. Brian lets his viewers chat and donate during his streams. Subscribe to his YouTube channel and follow the SDGuy1234 Facebook page to be updated on his upcoming events.
YouTube Channel
As of March 2022, the SDGuy1234 YouTube channel (@youtube.com/channel/UCSnJViPCcosLqod8eAVfTFw) has 144K subscribers. In his channel description, he said the channel is "your first stop for all things casino," which is a fact as Brian plays various slot machines. Check out and subscribe to SDguy1234 and watch his videos. He made a different playlist for each slot machine he played for faster browsing. He uploads videos and YouTube shorts once or twice a day.
Biggest Wins on SDGuy 1234 Streams
Looking at the SDGuy1234 YouTube channel, you will see that this guy is fortunate due to how frequent he is in winning jackpots. His videos are mainly a compilation of all the slots he played in a single visit in one or two casinos. That is why tracking his winning history is a little complicated.
However, one of SDGuy1234' biggest wins happened in July 2018. He won $16,292.96 on Lock and Link Nightlife with a $100 bet. A year later, in June 2019, he posted a video entitled "Second Biggest Jackpot". It is a video in which he won $14,248.77 on Huff N' Puff slot machine in Prairie's Edge Casino.
Why Watch SDGuy1234?
It seems like marketing is Brian's niche, and his educational background helped him a lot in his career in the online gambling industry. One reason people are so invested in watching his content is because of his quirky personality. His content focuses on connecting with his viewers and giving gambling advice instead of simply showing his slots gameplay.
Social Media Pages
SDGuy1234 can be found on many social media sites, as is the case with most content creators. Social media helps to strengthen their online presence and build their audience. Unfortunately, SDGuy 1234 doesn't have Discord. Discord is a private chat room that also serves as a forum where well-known streamers chat with their viewers about casinos and share their affiliate links. Check out SDGuy1234's other social accounts below.
Facebook
The SDGuy1234 Facebook account (@facebook.com/SDguy1234) is where Brian's followers go to get the latest updates on the streamer and his upcoming events. He and his fans have been actively communicating about their ideas and casino experiences in the comment section. The SDGuy1234 Facebook official fan page was made in 2013 and now has over 11K followers. Join his community and be updated on the streamer's life by following his page.
Instagram

The SDGuy1234 Instagram account has over 6K followers as of March 2022. It's understandable, since most Instagram users are millennials and Gen-Z. Suppose you are more of an Instagram user, check out and follow SDGuy1234's Instagram account @instagram.com/sdguy1234 to see regular selfies and short casino moments.
Twitter
The SDGuy1234's Twitter account @twitter.com/sdguy123 must be his earliest social media account as he joined it in April 2010. Unfortunately, his last post was in February 2019, and he has only retweeted a few casino updates since then. His Twitter account has almost 5K followers, and if you want to get updates on his upcoming events, it is better to follow his other social accounts where he is more active.
Conclusion
Brian, aka SDGuy1234, has been gambling since he was 21. In the description box on any of his videos, you will see "I work hard so I can play hard" to help his viewers understand if he didn't upload new content, answer their comments, or do a live stream recently. He indeed is a very hard-working man in his thirties, his passion for gambling and quality content for his audience made him what he is today.
Unfortunately, due to his personality and foul-mouthed way of speaking, people want to ban him. But this doesn't stop the streamer as he receives so much support from his viewers. In 2022, he is one of the most-watched YouTubers globally, with over a hundred thousand subscribers.
FAQs
How Much Does SDGuy1234 Make from YouTube?

What Is SDGuy1234's Net Worth?

Does SDGuy 1234 Use Fake Money?