Streaming has continued to grow at a rapid pace, especially thanks to the expansion of social media platforms. For live streaming content, though, Twitch continues to hold the top spot.
Streamers that have a great fanbase frequently draw in tens of thousands of viewers. LosPollosTV is an example of one such popular streamer.
LosPollosTV is a professional NBA2K player and a full-time Twitch streamer. In this guide, we will investigate the life of LosPollosTV, his net worth, and many other interesting details.
Welcome Bonus 500% up to $2,500 + 50% Cashback

*T&C Apply

Welcome $7777 Bonus + 300 Free Spins On Top!

*T&C Apply
About The Streamer LosPollosTV
LosPollosTV's real name is Louis Sammartino. In 2015, LosPollosTV won the NBA2K KOK Championship. Soon after, he started his social media career, and he has gained a following for his NBA 2K, Fortnite, Uno, and Call of Duty games and his live streams ever since. Since joining the 2Hype family, Louis has been part of the 2Hype digital community team.
LosPollosTV has a show on Twitch called "Wake Up, Basketball," which features former NBA Champion Richard Jefferson.
Bio
Streamer name
LosPollosTV
Age
27 years
Real name
Louis Sammartino
Nationality
United States
Origin
April 23, 2014
Followers
658K followers (Twitch)
234K (YouTube)
Channel Rankings
#387 most-watched overall
#79 most-watched Just Chatting channel
#187 most-watched English language channel
#26 most-watched English language Just Chatting channel
Highest viewers
57,589 – Twitch
Total views
15,529,367 – YouTube
Stream language
English
LosPollosTV was born on February 8, 1995. He is of Italian-American lineage and currently lives in the United States.
LosPollosTV's height is 5 feet, 8 inches, and his weight is 140Lbs. He's also a health freak. He has bright brown eyes and sports a beard and black hair. Jake and Nick, who are his younger brothers, are also Twitch streamers.
The Streamer's Popularity
When LosPollosTV's brother Jake exposed him to the platform Twitch, his streaming career began. First, Louis played NBA 2K, and he quickly rose to fame as one of the most prominent 2K streamers around. At some point, 2HYPE and other renowned 2K YouTubers like CashNastyGaming joined him in California, and he relocated there. Louis' popularity skyrocketed after he began playing Fortnite.
Unlike the other popular Fortnite streamers, Louis was well-known in the Fortnite community for his lack of skill, which made his streams entertaining. When he collaborated with renowned streamers like NickMercs and Hamlinz, he gained a lot of attention.
Luminosity Gaming took notice of Louis's growing fame in Fortnite and signed him in 2018. He's currently recognized as a variety streamer who performs things like Just Chatting, P.O Box Openings, Contests, Gambling, Discord chats with his viewers, and family streams.
LosPollosTV's Net Worth & Salary
LosPollosTV's net worth is estimated to be between $1.5 and $3 million based on our research and analysis. The majority of his income comes from Twitch streaming and YouTube video uploads. From Twitch alone, LosPollosTV earns approximately $103,744 per month. This includes Twitch subscriptions, advertising revenue, merch sales, and affiliate partnerships. He also receives at least $2,000 in additional income through donations, sponsorships, and Subathon.
Where to Watch His Gaming Streams
The following platforms are where you can find LosPollosTV's streams and videos.
Twitch Channel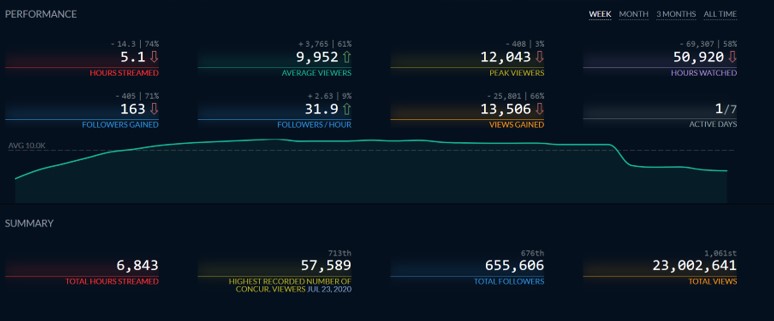 LosPollosTV Twitch has 656,000 followers. He is a Twitch partner who streamed a total of 6,843 hours on the platform. His peak number of viewers was 57,589 people. LosPollosTV has a total of 23,002,641 Twitch views. He currently has 7,381 active subscribers. Call of Duty: Warzone, Fortnite, Grand Theft Auto V, Among Us, and RUST are some of the games he streamed on the platform.
YouTube
LosPollosTV has 234k subscribers. His YouTube channel primarily features recordings of his Twitch streams. LosPollosTV's channel also features a combination of personal life VLOGS, as well as funny videos with his roommates, celebrity encounters, Q&A sessions, and more. LosPollosTV has a total of 15,529,367 views on the platform.
Why Watch LosPollosTV's Videos?
LosPollosTV is a dedicated and committed person, as evidenced by his live streaming record. LosPollosTV is always full of energy and enthusiasm and is dedicated to making a name for himself in the industry. His fans adore him for his style and personality, and they actively participate in his streams.
Real Bets
LosPollosTV is honest and transparent with its audience. He places real bets with his own money when playing games.
Longest Live Stream Record
LosPollosTV broadcasted for almost 195 hours, making it the longest continuous stream on any platform. This landed him in the Guinness book of world records.
LosPollosTV decided to launch a Twitch "sub-a-thon," pledging to extend his stream by two minutes for every subscription he obtained. The live stream began on March 29, but as his subscriber count grew, it became evident that the stream would go far longer than he had anticipated. He finished the session with 195+ hours.
Is LosPollosTV Legit?
Yes, LosPollosTV is genuine and legit. He is one of the most popular and reputed Twitch partnered streamers with a huge fanbase. He won the NBA2K KOK Championship in 2015.
Scandals and Offenses
The LosPollosTV account was banned from Twitch in May 2020 for an undisclosed period. Some followers believe the ban resulted from a movie night in which he streamed a PG-rated film.
LosPollosTV is also involved in other scandals. On July 21, during a Fortnite live stream, a bunch of armed SWAT officers rushed the room, and the stream was cut short. Ludwig Ahgren, a Twitch star, allegedly made a prank call to the squad and sent them to LosPollosTV's house.
LosPollosTV recently received a $350 donation on January 24 that the donor claimed was an error and should have been $3.50, and he requested a refund. LosPollos was criticized for refusing to issue a refund right away.
LosPollosTV Social Media Pages
Along with a LosPollosTV discord forum, the streamer is quite active on the following social media platforms.
Instagram

LosPollosTV has 115,000 followers on Instagram (@instagram.com/lospollosig). The streamer frequently posts pictures of himself hanging out with his friends, partying, and drinking. His followers can also see a few football-related posts but his account mostly consists of snippets from his personal life experiences.
Twitter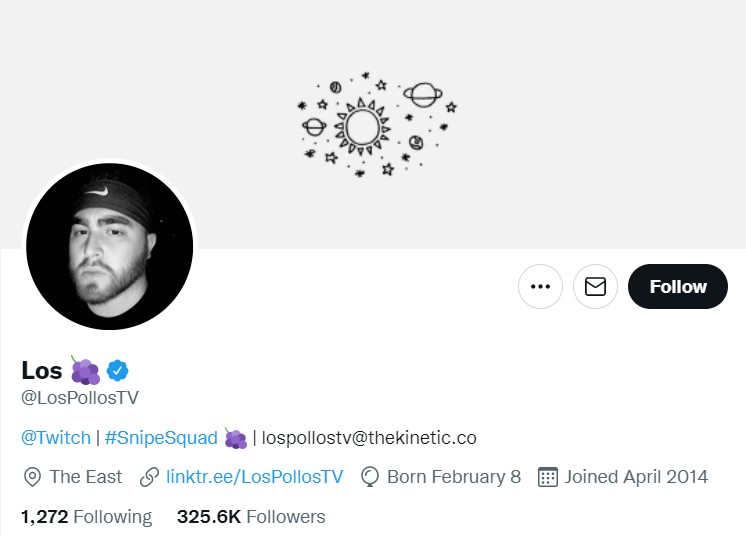 The LosPollosTV Twitter account has 325,600 followers (@twitter.com/LosPollosTV). He uses this platform to share his honest opinions, thoughts, and game updates. Posts include photos of NBA players, pictures taken in the stadium, him smoking cigars, and selfies.
TikTok
The LosPollosTV TikTok accout has 47,400 fans and 1.2 million likes. He frequently posts snippets of his life, pranks with his friends and roommates, and NBA-related videos.
Conclusion
Overall, LosPollosTV is an entertaining Twitch streamer who is funny and open about his views online. He is sincere and friendly and doesn't attempt to be someone he is not. Therefore, his streams are worth watching and subscribing to.
FAQs
Does LosPollosTV Use Real Money For Bets?

How Much Is LosPollosTV's Net Worth?