Live streamers are becoming quite popular among online casino players. It's a lot of fun to watch someone else bet money and be able to live vicariously through them. Additionally, you'll enjoy the calm slot machine soundtrack, entertaining graphics, and a laid-back Twitch community to interact with. What's not to like about that?
SpinlifeTV is an example of a popular streamer-hosted channel that attracts a large following. They are the latest group of streamers who are gaining a lot of attention from the online community. Everything you need to know about SpinlifeTV will be covered in this article, including their private insights, biggest wins, and favorite casinos.
Welcome $7777 Bonus + 300 Free Spins On Top!

*T&C Apply

Welcome Bonus 500% up to $2,500 + 50% Cashback

*T&C Apply
Who Are SpinlifeTV Streamers?
SpinlifeTV is a pseudonym channel name for three casino Twitch streamers who have decided to make a career out of their passion for online casino gaming. They began their journey of slot live streams a few years ago. Initially, only Jack Peterson was streaming. After a solo start, Jack joined forces with his friend Philip and subsequently Marcus, the group's third member.
Streamer name
SpinlifeTV
Real name
Jack Petersson, Philip & Marcus
Country
Sweden
Origin
Nov 18, 2016
Followers
81,500 (Twitch)
46,500 (YouTube)
Favorite Casino
Gamdom
Channel Rankings
#49 most-watched Slots channel
#19 most-watched English Slots channel
Highest viewers
22,000
Total views
25.11 Million (YouTube)
6.48 Million (Twitch)
Stream language
English
Biggest Win
$3,499,510 on Rocket Reels
Biggest Multiplier
x10,000 in Rocket Reels
Gaining Popularity
SpinlifeTV is the brainchild of three hard-working and friendly streamers who have a true talent for playing and winning casino slot games. They only play at secure online casinos. Fairness and transparency can be trusted completely by the audience.
SpinlifeTV 's three streamers could undoubtedly be classified as high rollers. For them, betting €10 per round is no big deal. Most of the time, it's way above €100. As a result, they garnered attention among Twitch users.
About the Rise of the SpinlifeTV Channel
SpinlifeTV, or more specifically, Jack, has been around for a long time. Daskelelele was the name he went by when he first started streaming on Twitch. After Philip and Marcus arrived, the trio undoubtedly decided it was time to give the whole thing a uniform look.
To have equal opportunity, they decided to rebrand their channel in 2021. SpinlifeTV replaced the names Daskelelele and Jack's Gambling Channel and all the other names that were previously used. As soon as they started streaming entertaining videos, they attracted the attention of casino enthusiasts. In the live streaming industry, their dedication and love for casino games are what have propelled them to the top of the ranks.
SpinlifeTV Streamers' Biggest Wins
Although SpinlifeTV won many games, we wanted to highlight their biggest wins below, which made them famous in the casino industry.
$3,499,510 in Rocket Reels
On the new Hacksaw Gaming online slot, SpinlifeTV set a new rocket reels record win. This new 7 x 7 grid slot machine has a maximum payout of 10,000x! Through roulette and bonus buys, Jack was able to recoup his deposit from 11k to 550k after a few unlucky bonuses. Jack decided to try his luck with some $350 bonus buys on Rocket Reels.
On this daring bonus buy, Jack not only struck MAX WIN on Rocket Reels, but he also hit a $4,000,000 balance LIVE on stream, making it unquestionably his greatest ever slot win by a MILE!!
10,000X In Rocket Reels
On Rocket Reels, Marcus once again landed a slam dunk. As far as live slot wins go, this was Marcus's biggest ever and one of the best captains wins they have ever had! Marcus staked $15 and walked away with a whopping $150,000 win.
When and Where to Watch
You can watch SpinlifeTV's streams on the below channels.
Twitch
SpinlifeTV Twitch currently has 81,500 followers. They are mostly known for broadcasting slot machines. On Twitch, the channel now has a total of 6,479,483 total views. Their all-time Twitch viewership record is 22 306 peak viewers (Sept 05, 2019). SpinlifeTV casino streamers reached the 5481st position on Twitch last month.
YouTube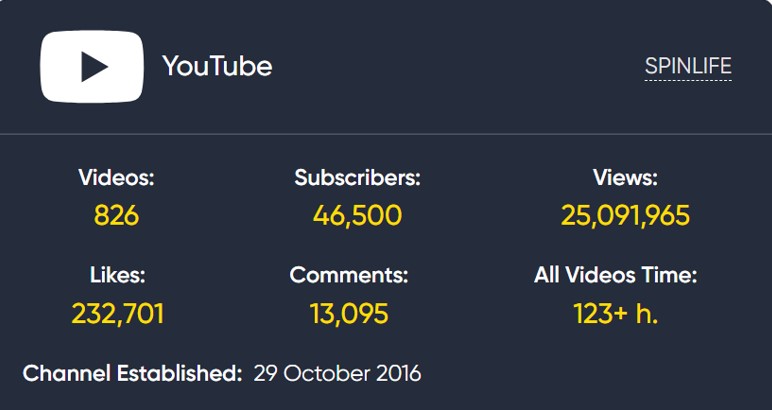 There are 46,500 subscribers to Spinlife TV's YouTube channel. In addition to posting video highlights from their streams, they also routinely share snippets of their most stunning wins. Their YouTube account emphasizes why they're so unique. None of the large casino streamers use this site to broadcast live. Spinlife TV, on the other hand, didn't want to lose out on this opportunity! They stream their games live.
Why Watch SpinlifeTV?
Philip is the one of the three whose personality draws the most attention. When he shows off his abilities on slots, he captures the attention of viewers. Similarly, Marcus' streams have the power to energize his followers. Both are now an important part of the Twitch community.
Jack takes charge of the live feeds on Twitch and YouTube, as well as the management authority of the site. Streaming 10 hours a day isn't a big deal for them. It is worth spending your time and watching their streams because they are passionate about their work and spread positive vibes to uplift their followers' community.
Hunt for Big Bonuses
It's safe to say that those streaming under the name SpinlifeTV are devoted bonus hunters. If you spend more than 10 hours a day at the online casino, you'll need to find a way to raise money. There are a lot of similarities between the casinos where these two streamers play, and the casinos frequented by other well-known streamers.
Their fair sales conditions and withdrawals process are as impressive as their tempting bonuses. In other words, if you're looking to win big, you can't go wrong with SpinlifeTV's favorite casinos.
Tips & Tricks to Emulate
SpinlifeTV encourage their fans to follow in their footsteps and to take advantage of bonuses targeted exclusively for EU customers. You'll also get some great advice in the process. Those who follow their tips get a fair chance of making some big money from Europe's best casinos.
Even during a live stream, viewers have the chance to seek tips from them. Once you've begun to test your luck at an online casino, you can put these tips into action effortlessly. If you'd like, you can also give them donations. Apart from their clever ideas, they also have a sense of humor and are a delight to watch on camera.
Casinos in Which They Play
In the Twitch stream, SpinlifeTV's most important sponsorships and dealings are visible. the casinos they play and suggest are already immensely popular. These casinos have the advantage of being attractive to both newcomers and seasoned players.
On SpinlifeTV, licensed casinos are the sole emphasis. The Swedes, after all, now call Malta home. As a result, you're right in the middle of all the fun. There is, of course, a crypto casino on the list. Listed here are their favorite casino providers:
Caxino
Mount Gold Casino
Gamdom
Royal Panda
Spin Away
Neon Vegas
20Bet
Do SpinlifeTV Streamers Use Real Stakes?
Because the streamers are high rollers and place large bets, it is not surprising that the accusation is that the streamers do not play with real money. There was a false rumor circulating calling SpinlifeTV banned, but this was not the case. The streamers are legit and do place real time bets. They can afford the large stakes since their streams generate a substantial amount of income.
Social Media Presence
The streamers are also quite active on the following social media platforms in addition to their streaming channels.
Instagram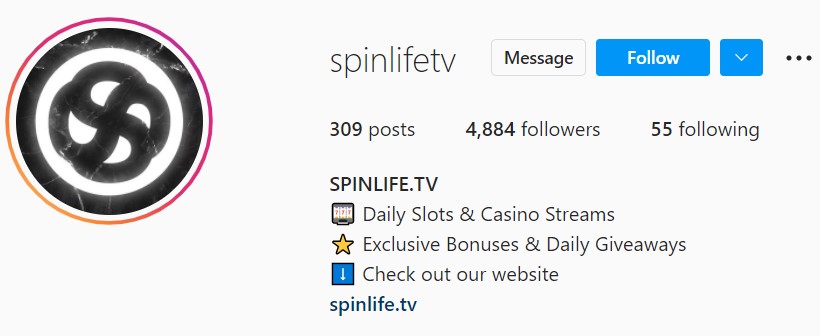 SpinlifeTV Instagram has 4,873 followers and 307 posts. Their account mainly focuses on their stream highlights and videos of their winnings and streams.
Discord
SpinlifeTV discord has an active community of 10,268 members. They provide frequent live updates as well as other information related to their schedule streams. They also interact with and chat with their followers.
Facebook
Spinlife has 577 followers on Facebook. On this platform, they upload their game recordings and video clips of their wins.
Official Website
SpinlifeTV also has an official website, which can be found at https://spinlife.tv/. You can check out the bonuses offered by their favorite casinos, as well as their largest wins. The group also maintains an active forum for their supporters, where they regularly discuss hot topics, stream updates, share experiences and organize guessing competitions.
Final Thoughts
SpinlifeTV is run by a trio of skilled and friendly streamers who hail from Sweden and now reside in Malta. Together, they keep Twitch and YouTube viewers entertained. Despite the fact they keep a low profile, the Twitch scene seems bright for these streamers.
FAQs
Which Casinos Do SpinlifeTV Streamers Play At?

Why Watch SpinlifeTV's Streams?