Most of the slot industry's streamers are men, and it is quite rare to see female slot broadcasters. However, this is starting to change as many female gamblers are now starting to try their luck at broadcasting. One well-known female slot YouTuber is Dianaevoni.
Welcome Bonus 500% up to $2,500 + 50% Cashback

*T&C Apply

Welcome $7777 Bonus + 300 Free Spins On Top!

*T&C Apply
Who Is Dianaevoni?
YouTube's Dianaevoni is one of the best-known female broadcasters in the slot industry, along with Lady Luck HQ, SlotLady, and Gretchen from MGSlots 21. She has a smaller viewership than the other streamers, but her engagement with her audience is always on top. Additionally, her very friendly personality and charming smile will surely get your attention to watch her videos.
Her friends and viewers like to call her Diana or Evoni. There is no wiki page or website to get personal information on the broadcaster, but we managed to get some details on Dianaevoni's net worth, how she started, and her favorite casinos using her official blog (www.lasvegasdaze.com) and YouTube channel.
Before Fame
Her real name is Diana, and she is believed to be in her 50s. She has a son and husband named Randy. According to Diana, before she started Dianaevoni slot videos, she and her husband worked in a Tech Company in Silicon Valley.
In 2007, before Dianaevoni slots, she was a blogger and an active member of a number of casino message boards and forums. On her blog, it's stated that she is from California, but her nationality is unknown. She wrote blogs about her trips and honest ratings on dining, hotels, and casino events such as the Grazie Summer Gifts Show in Vegas.
Channel History
Dianaevoni slots was one of the earliest female slot channels on YouTube. She created her account on April 5, 2009, and she posted her first slot video two years later. Dianaevoni slots' oldest videos were very basic in quality; they're solely focused on slots and are not very stable. This all changed when she met Robert M, who became her friend and helped her improve her videos, especially her intros. From then on, she started reaching milestones on YouTube.
Slot Streamer Glory
Diana and her family moved to Reno, Nevada, in 2019 to be closer to the casinos. The Dianaevoni slots channel is known for creating videos on various high limit and coins slots. Her regular stake is between $5 and $25 per spin on each slot. Most of Dianaevoni latest slot videos are big wins, jackpot hand pays, and bonus rounds. But as she always says, it takes many losses to win, and she's not afraid to show her viewers this reality.
Dianaevoni Net Worth
Streamers in the slot industry earn from their winnings, donations and gifts, merch, YouTube revenue, and other sources of income. In the case of Dianaevoni's net worth, she earns from YouTube (ads, views, and subs), membership, merch, and private income. Unfortunately, there is no actual data for Dianaevoni's net worth, and Youtubers.me only provides an estimation.
According to the website, Dianaevoni's net worth ranges between $22.5K and $135K. In their previous period report dated February 19, 2022, they estimated a high monthly revenue of $326.06 and a low of $53.99. However, in March, it was reported that her YouTube channel, Dianaevoni earned $431. The broadcaster also made $1.38K in the last three months.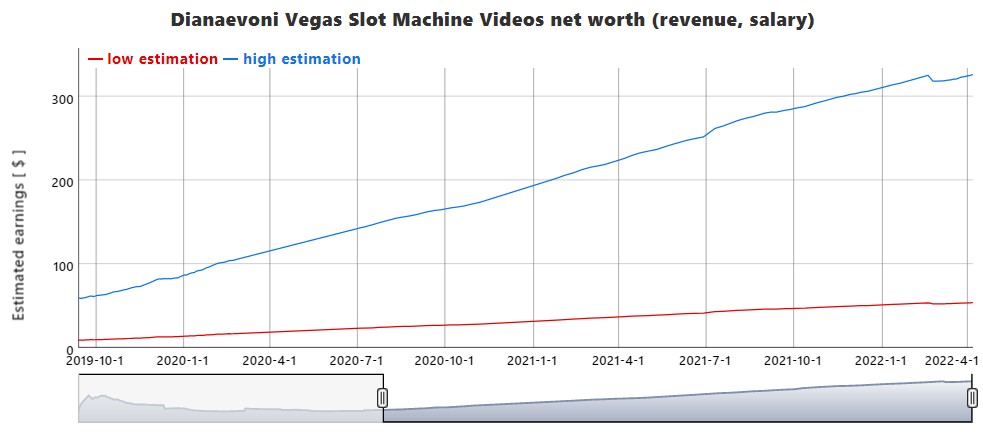 When & Where to Watch Dianaevoni's Latest Video
As of April 2022, 72.5K subscribers enjoy Dianaevoni slot videos, which feature various casinos. Dianaevoni rarely goes live, but you can watch Dianaevoni's live stream on YouTube. Subscribe to her channel and tap the notification bell to get notified when she's online. Dianaevoni's latest slot videos are posted every day.
YouTube Channel Overview
To drive more traffic during her streams on YouTube, Dianaevoni sometimes invites her slot streaming friends, chooses a convenient time, and actively chats with her viewers. In total, her channel has had over 60 million views since her very first video in 2011.
On average, her videos gain 10K new views every day, and on March 23, she gained 31,434 unique views. This is the highest rating since the previous period, recorded on March 18, with 19,428 new views.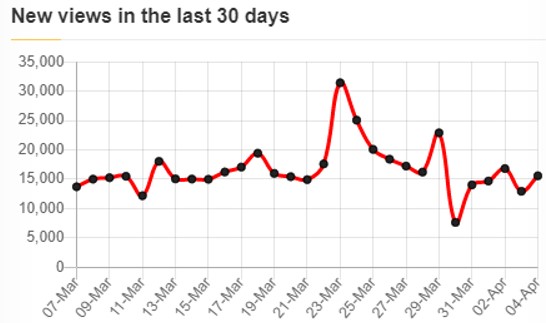 Dianaevoni Live Stream: Biggest Wins
In one of Dianaevoni slots' videos, filmed in October 2021, she announced that she had won her biggest jackpot on YouTube at $27,396. The video is about how she mistakenly put a stake of $52.80 on Dancing Drums during G2E 2021. But before that, she also talked about her previous big win in coins slots that was not filmed.
She said that nine or ten years ago, she won $20K on Double Top Dollar and another $20K on Wheel of Fortune in Venetian with her husband a year later. In one of the Dianaevoni live streams in March of 2021, she won $8,888.31 on the Peacock Boost.
Why Watch Dianaevoni's Slot Videos?
People watch Dianaevoni live stream and play slots because of her entertaining personality. In some situations, she staked money on slots without reading the guidelines. If you want to see a gambler who simply enjoys the game and doesn't focus too much on the rules, watch Dianaevoni. Enjoy over 2,500 Dianaevoni slots videos of jackpots and bonus rounds on coins slots on her channel.
Favorite Casinos
On VegasLowRoller and Dianaevoni's live stream in 2017, VLR made a 30-minute Q&A for Dianaevoni. This was where she answered some personal questions, such as her favorite casinos. According to her, most of the Dianaevoni slot videos happen in land-based casinos in Las Vegas and California. Her favorites casinos are The Cosmopolitan, The Pallazo at the Venetian, Atlantis Casino, and Wynn Casino.
Slots by Dianaevoni
Among all Dianaevoni's slot videos, two videos hold the highest views and like ranking. These are Wheel of Fortune, with over 950K views, and her mistaken bonus on Huff N' Puff, with more than 9K likes. Besides these two slots, Dianaevoni said that her favorite slots are Lighting Link, Buffalo Gold, Double Top Dollar, Walking Dead, and more.
Does Dianaevoni Use Real Money?
Dianaevoni said that she plays for fun and to share guidelines on particular slot machines with other streamers. Sometimes you will see her reading the rules in the middle of a game, which makes her viewers laugh. However, Dianaevoni slots only gambles in real and fully secured casinos. Using fake money to cheat is impossible at land-based casinos.
In some of the Dianaevoni live streams, you will see her sliding cash or swiping cards on the machine to cash in and cash out her winnings. So, the answer is yes, Dianaevoni is legit and uses real money to gamble.
Social Media Presence
Other than her official blog and message boards, Dianaevoni is very active on social media. She posts links to her videos and streams on the Dianaevoni Facebook page and Dianaevoni Twitter account to create more traffic.
The Dianaevoni Facebook page (@facebook.com/lasvegasslotvideos) has over 4K followers and likes. On the other hand, the Dianaevoni Twitter account (twitter.com/imevoni) has almost 3K followers. Check out her social media accounts to be the first to see Dianaevoni's latest slot videos and be updated on her life as a gambler and upcoming streams and events.
Final Thoughts
Is Dianaevoni legit? Yes, and her real name is Diana. She lives in Reno, Nevada. She loves to meet and chat with her viewers as much as she loves slots machines. Her enthusiasm for interacting with her viewers helped her achieve success on her Dianaevoni slots channel today. Diana often shows her winnings on her videos but is never afraid to accept her losses to prove that she is not gambling excessively.
If you ask her viewers why they keep watching Dianaevoni, they will tell you it's thanks to her fun and easy-going personality, honest reviews of slot machines, and skills in recognizing a slot machine to see if it is "hot or cold."
FAQs
What Does Dianaevoni Do for a Living?

Does Dianaevoni Use Real Money?

Where to Watch Dianaevoni Live Streams?