Have you ever wondered how YouTube pays a content creator? Finding your niche audience is vital for earning in this industry because earnings depend on engagements. The East Coast Slots YouTube channel is one of the smaller but more successful broadcasters today. Read more below to learn about the broadcaster.
Welcome Bonus 500% up to $2,500 + 50% Cashback

*T&C Apply

Welcome $7777 Bonus + 300 Free Spins On Top!

*T&C Apply
Who Is East Coast Slots Streamer?
The East Coast Slots channel is a husband-and-wife combo that loves to make gambling broadcasts. They like to play in high-limit slot machines in different land-based casinos. The couple also does mini travel vlogs to show their hotel rooms and delicious meals to their viewers. But who is the couple behind East Coast Slots, and how did they become successful?
Life Before YouTube
It is common for casino slot streamers not to publish their personal information, and there are very few of them who share a lot of details about themselves. Details on East Coast Slots' age and life before their streaming career are unknown; we don't even know where their channel name came from. However, according to their viewers, the couple's real name is Murray and Tatiana. They got engaged and married in 2018.
Becoming a Popular Streamer
Currently, East Coast Slots has 37.8K subscribers, having gained another 6,000 subscribers since May 2021. The couple joined YouTube in 2012, but their first video was uploaded five years later. It was a video of Murray playing an online slot called Bovada and winning $1,239.24. Then a year later, they reached their first thousand subscribers. East Coast Slots is also one of the fastest-growing channels on YouTube, as they reached the 30K subs milestone in just three years.
East Coast Slots' Net Worth
Casino slots YouTubers earn based on their number of subscribers, views, CPM rate, ads revenue, merch sales, sponsorship, membership, donations, winnings, and affiliate links. Unfortunately, it was impossible to uncover East Coast Slots' net worth exactly. The main factors that affect the East Coast Slots' net worth are their merch sales and YouTube income.
Merch
Instead of affiliate casinos or membership, they sell their merch on Teespring to generate income that adds to the East Coast Slots net worth. Their merchandise, such as T-shirts, hoodies, and mugs with their original logos, range from $15 to $50, plus tax and shipping.
There is no sales data on their merchandise, but income per item can be estimated. For example, if 10% of their subscribers bought a $21.99 T-shirt, the estimated sales would be $83,122.20.
YouTube Channel
According to Starstat, the broadcaster East Coast Slots' net worth as of March 2022 is $70,812.00. The channel has a monthly income of $212 – $4.8K and $2.6K – $58.2K annually based on the default CPM rate of SpeakRJ.
Note that these numbers are only estimated according to each site's CPM rates. For 2021 – 2022 the YouTube CPM rate is between $4.50 and $8.50, depending on the niche and country.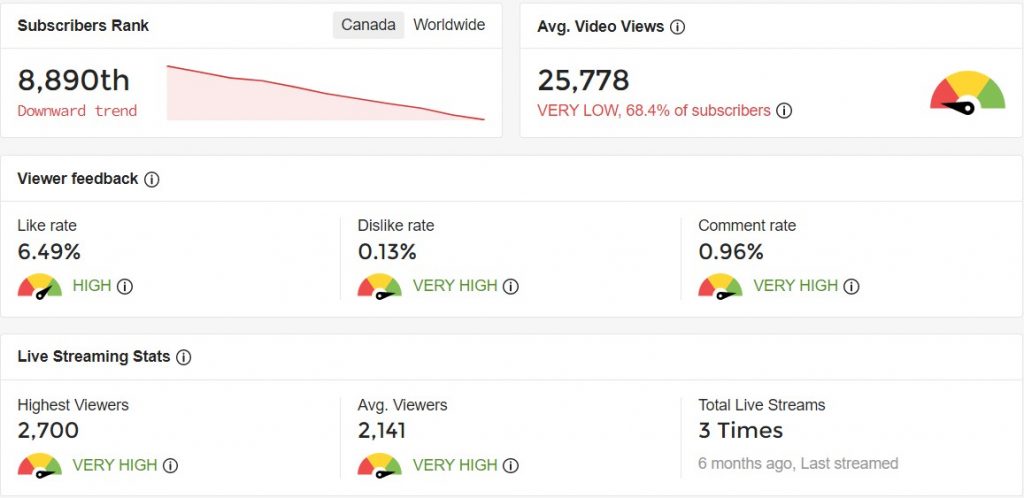 East Coast Slots YouTube Channel Overview
The history of the channel name "East Coast Slots" is still undetermined. Could it be down to the fact that the couple is from the east coast of the US. The couple Murray and Tatiana love to travel, and where they live is still a mystery. In total, the East Coast Slots YouTube channel (@youtube.com/c/EastCoastSlots) has 189 videos and has had 11,325,653 views since it started.
Most Watched Videos
It has been ten years since they joined the platform, and it's been five years since they started their career in this industry. East Coast Slots' average viewer numbers per video are 20K, and their most-watched video as of now was posted in December of 2018. It was entitled "2018 Year-End Review," where they compiled all their big wins and jackpots.
A video posted on the 9th of August 2021 has recently seen 38.57K new views. It is a video of Murray hitting a major jackpot in The Seminole Hard Rock in Tampa, Florida. He won $50,000 on the Happy and Prosperous slot machine, and as Murray said, it was one of his big wins.
Recent Streams
The channel's most recent video is a three-episode of Murray's trip to Atlantic City with his friends, who are also slot YouTubers. It's a three-episode series of Murray just spending time and money with his friends, chasing money in slots in Golden Nugget. However, in the third episode, he announced that he was taking a break from YouTube, social media, and slots.
Why Watch His Streams?
Although East Coast Slots is a couple, Murray is the one who's usually in front of the camera. He's very humorous and loves to chat online. He replies to his viewers and answers their questions about what's new and other casino stuff, making the comment section look like a forum. He also likes to give "Tips of the Week," where he randomly pauses a video to comment and give tips to his viewers. He used to stream and upload videos every Monday. Check out his videos to get tips on how to win jackpots.
East Coast Slots Social Media Accounts
If a broadcaster wants to build a strong online presence and attract a larger audience, creating social media accounts is essential. East Coast Slots made two social media accounts, Facebook and Instagram. Murray used to be active on both versions until he announced that he was taking a break.
Facebook
The official Facebook page of East Coast Slots has over 700 likes and 900 followers. If you want to see who East Coast Slots is in and out of the casino and chat with them, follow their page @facebook.com/EastCoastSlots.
Instagram
The couple's Instagram bio says, "a glimpse into the world of high limit slots." The Instagram account contains all their trips to casinos and slots. Check out their account and join their 574 followers to be updated once the couple is back.
Conclusion
It's hard to keep up with other YouTubers who have larger audiences, but that didn't stop the couple. They film their vlogs and post them, hoping someone will see them, and years later, they got over 30K subscribers. Their hundred views became thousands, the comment box became a forum, and the small channel became famous.
However, under the most recent video on the East Coast Slots YouTube channel, you will see how the viewers felt when Murray announced the channel was taking a break. It's proof that the creator and the viewers have a very close relationship.
No one knows when the high-quality content will be back, but the viewers will always wait for it. Now that you know who East Coast Slots is, go ahead and watch their videos to get tips to win money.
FAQs
Who Is The East Coast Slots Streamer?

How Much Is East Coast Slots Worth?

Does East Coast Slots Have Any Social Media Accounts?